See all Profiles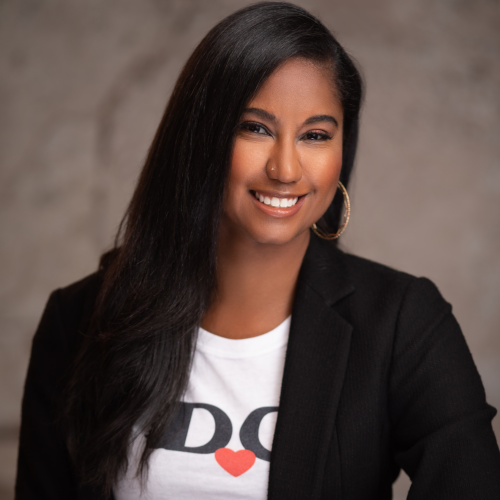 Faculty
Faculty
Jami Ramberan, MFA
(She, Her)
Associate Professor
Department/Office
Media, Journalism, Film & Communication
Biography
Jami Ramberan is an Emmy and International Award-winning filmmaker and educator. She is an Associate Professor in the Cathy Hughes School of Communications, Department of Media, Journalism, and Film, where she also serves as the Assistant Chair of the Department. 
Ramberan holds an MFA in Film Production from Howard University and an MA in Media Studies from The New School.
Ramberan has worked professionally as a filmmaker writing, directing and producing narrative, experimental and documentary film, music videos and commercials. Her works have been screened at film festivals across the world and streaming platforms including Amazon Prime. Having a passion for working with young people, she also serves on the advisory board for the Global Institute for Black Girls in Film & Media. 
Education
Film Production
MFA
Howard University
2014

Media Studies
MA
The New School
2008

BA
English
Seton Hall University
2005

Expertise
Film Production
Directing, Writing and Producing
Research
Funding
Caribbean diaspora, African American women narratives, multiculturalism, social justice, education, technology, African American music, and environmental studies.
Accomplishments
My Asian
"My Asian" is a poetic film, highlighting the horrific miscarriages of justice that Asian-Americans and Asians in America are, and have historically been subjected to: from day-to-day micro-aggressions to actual acts of violence and terror against members of our community.
Outstanding Performance Piece/Experimental Film, Micheaux Film Festival,  2022
Vote
Set in our nation's capital, "Vote" is a visual call to arms, highlighting the devastating contradictions that so many in America are experiencing right now, and paying homage to the countless individuals that have sacrificed and are sacrificing so that we may have the right to vote, and have our vote count.
Outstanding PSA Single Spot, Emmy Award, 2021
Best of Festival Award, Broadcast Education Association 2020
Everlasting
Short Film. In a world of social media obsession, a tech-savvy boyfriend tries to plan the perfect birthday for his girlfriend in spite of her sister's objections.
Audience Choice Award, Cannes Short Film Festival
Official Selection, Brooklyn SciFi Film Festival
Official Selection, Miami International Sci-Fi Film Festival
Silent Brave
Short film. A female veteran isolates herself in a small town, only to be reminded of a horrific incident that occurred within the ranks and the betrayal that follows.
Best Short Film, Paris Art and Movie Awards
Best Cinematography, Amsterdam Film Festival
Official Selection, Pan African Film Festival of Cannes, Indie Capitol Awards, San Francisco Black Film Festival, Baltimore International Black Film Festival