See all Profiles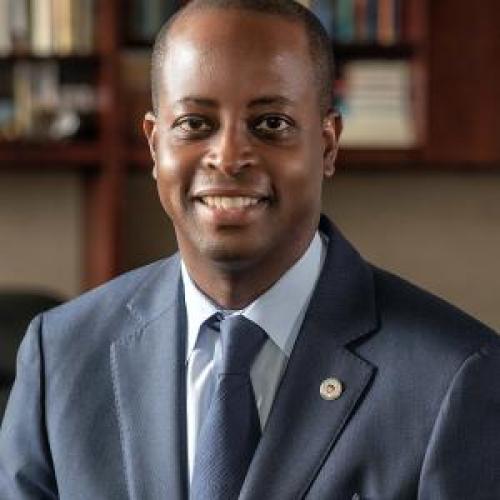 Staff
Staff
Wayne A. I. Frederick
Charles R. Drew Professor of Surgery
Biography
Dr. Wayne A. I. Frederick was the 17th president of Howard University and is currently the President Emeritus of Howard University and the distinguished Charles R. Drew Professor of Surgery at the Howard University College of Medicine. He is also a practicing cancer surgeon at Howard University Hospital, where he continues to consult patients and perform surgeries. 
Dr. Frederick is a true son of Howard, matriculating to the University at age 16 as a B.S./M.D. dual degree student. He completed both degrees within six years, earning his Bachelor of Science and medical degrees by age 22. Following his post-doctoral research and surgical oncology fellowships at the University of Texas MD Anderson Cancer Center, Dr. Frederick began his academic career as associate director of the Cancer Center at the University of Connecticut. He would later earn a Master of Business Administration from the Howard University School of Business in 2011. Today, he continues to operate and lecture second-year medical students and surgical residents of Howard University School of Medicine. In June 2023, the University's Board of Trustees unanimously approved the naming of the Wayne A. I. Frederick Undergraduate Library in honor of his years of service. He retired as president on September 1, 2023. 
As president, Dr. Frederick advanced Howard's commitment to student opportunity, academic innovation, public service, and financial stability. He has affected a series of reform efforts, including modernizing University facilities, streamlining and strengthening University operations, and expanding academic offerings and innovative programs to support student success. His presidency accompanied a period of considerable growth and transformation at Howard, including historic enrollment numbers and philanthropic donations. Prior to his presidency, he served in various capacities across the University, including provost and chief academic officer, director of the Cancer Center, and associate dean in the College of Medicine.  
Dr. Frederick devotes his time to writing and speaking on salient topics in higher education including the impact of historically Black colleges and universities, campus intellectual diversity, the underrepresentation of African American men in medical school, and gender equity on college campuses. He also serves on numerous boards and committees, including the U.S. Chamber of Commerce, the American Cancer Society, Humana Inc., and Insulet Corporation. In January 2017, the Federal Reserve System Board of Governors elected Dr. Frederick to the Federal Reserve Bank of Richmond. 
An internationally recognized expert on disparities in health care and medical education, Dr. Frederick is the author of numerous peer-reviewed articles, book chapters, abstracts, and editorials. His research addresses narrowing racial, ethnic, and gender disparities in cancer care outcomes, particularly regarding gastrointestinal cancers. He is a member of numerous medical associations including the American Surgical Association, the American Cancer Society, the American College of Surgeons, and the National Academy of Medicine.  
Dr. Frederick has received various awards honoring his scholarship, service, and community impact. He was named one of EBONY magazine's "Power 100" and recognized as a "Super Doctor" in The Washington Post magazine. He is the first-ever recipient of the Educator Award by the Lowell F. Hawthorne Foundation, Inc. He was honored with the Distinguished Alumnus Award from the University of Texas MD Anderson Cancer Center for his contributions to the medical field and has been featured as one of "America's Best Physicians" by Black Enterprise magazine. He was presented with the Diaspora Public Diplomacy Leadership Award by the Embassy of the Republic of Trinidad and Tobago for his contributions to strengthening Trinidad and Tobago – United States bilateral relations through excellence in global educational leadership.  
In 2015, Dr. Frederick was recognized by the then-president of the Republic of Trinidad and Tobago for his appointment as president of Howard University. In 2017, he was named "Washingtonian of the Year" by Washingtonian magazine and was inducted into the St. Mary's College, Port of Spain, Trinidad Hall of Fame. In 2020, he was named Nonprofit Leader of the Year by Washington Business Journal, and in 2021, he was honored as a "Great Immigrant, Great American" by the Carnegie Corporation of New York. In March 2022, Dr. Frederick received Trinidad and Tobago's highest honor, The Order of the Republic of Trinidad and Tobago (ORTT). 
Education
Zoology
B.S.
Howard University
1992

Doctor of Medicine
M.D.
Howard University
1994

Master of Business Administration
MBA
Howard University
2011

Expertise
Historically Black Colleges and Universities, STEM Pipeline, Healthcare, Oncology, Unconscious Bias, Sickle Cell Anemia
Research
Specialty
Cancer-care outcomes
Accomplishments
Named by the Washington Business Journal as one of the Power 100 of 2015 Innovators, Dr. Frederick has received the National Association of Health Services Executives' Congressional Black Caucus Distinguished Leadership in Health Care Award