See all Profiles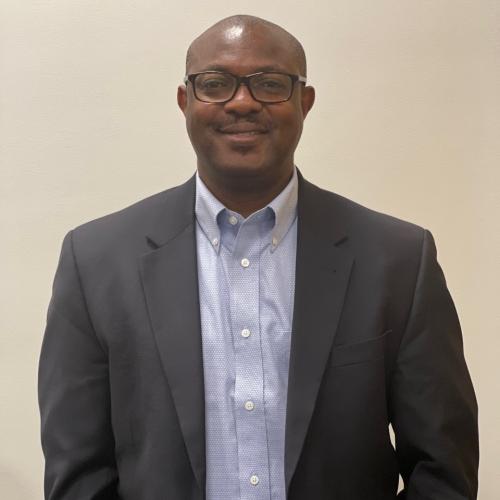 Faculty
Faculty
Stephen Arhin
Chair and Professor
Department/Office
Department of Civil and Environmental Engineering, CEA
School/College
College of Engineering and Architecture (CEA)
Biography
BIOGRAPHY
Dr. Stephen A. Arhin, is a Professor in the Civil and Environmental Engineering Department and the Director of the Howard University Transportation Research Center. He holds a B.S in Civil Engineering from University of Science and Technology (Ghana), a M.Eng. in Transportation Engineering from Howard University, Washington DC, and a D.Sc. in Transportation Engineering from The George Washington University. Dr. Arhin has significant experience in civil engineering with emphasis in highway engineering, traffic operations and safety, and Intelligent Transportation Systems. He is a registered Professional Engineer (P.E.) in DC, MD, DE and VA. Dr. Arhin also possesses a Project Management Professional Certification (PMP) and a Certification in Research Administration (CRA) and finally a registered Professional Traffic Operations Engineer (PTOE). He is also a Fellow of the Institute of Transportation Engineers.
He is the current Vice President of the DC Society of Professional Engineers and has significant number of years of experience in all facets of traffic/transportation engineering that includes traffic safety and operations and planning. He has extensive experience working with state and local transportation agencies on a wide variety of safety, operations, and design projects. Prior to becoming a faculty member, he was a Senior Traffic/Transportation Engineer with nationally-recognized engineering consulting firms. In 2014, he was part of the team that prepared the DC Speed Safety Nexus for the District of Columbia. Dr. Arhin co-authored several traffic engineering manuals for DDOT and was the author of DC's first Traffic Calming Policies and Guidelines and Work Zone Manual. He has been involved in a substantial number of safety projects in the District as well as in jurisdictions in the metropolitan area. Due to his background and prominent role in improving traffic safety in the District, he was selected to serve on the DC Council Safety Improvement Panel in 2012.
EDUCATION & EXPERTISE
George Washington University (Washington, DC)
D.Sc.; Civil and Environmental Engineering (Transportation Safety Engineering)
Howard University (Washington, DC)
M. Eng.            Transportation Engineering
University of Science & Technology (Ghana)
B.Sc.    Civil and Environmental Engineering
Expertise
Research, Teaching, Professional Development
Dr. Arhin's research interests include: Intelligent Transportation Systems, Neural Networks and Fuzzy Logic; Traffic Control Devices; Traffic Operations and Safety; Pedestrian Safety and Management; Traffic Management Systems; Pavement Ride Quality; Traffic Modeling and Simulation; Highway Safety Data Analysis; Data Mining; Algorithms in Vehicle Adaptation Systems; Autonomous Vehicles.
ACADEMICS
Teaching Interests: 
Intelligent Transportation Systems
Highway Engineering
Civil Engineering Software & Design
Traffic Engineering 
Construction Project Management
Traffic Flow Theory
Engineering Systems Analysis
Probability and Statistics for Engineers
Geographic Information Systems (GIS)
Transportation Systems Analysis
Project Management
Specialty
Safety, Traffic Operations; Crash Analysis and Mitigation
ACCOMPLISHMENTS
Fellow, Institute of Transportation Engineers
Distinguished Service Award by the Howard University Office of the Provost (2021)
2019 Howard University Graduate Faculty Research Exemplar
2017 Highest CEA Faculty Incentive Program Award for Funded-Research
2016 Howard University Board of Trustees Faculty Honoree
Dwight David Eisenhower Fellowship Award: 2004-2007
Dwight David Eisenhower Superior Achievement Award (1999) of the National Highway Institute, Federal Highway Administration
Memberships and Offices in Learned or Professional Societies
President-Elect, DC Society of Professional Engineers (2021-2022)
ABET Program Evaluator (2019 – Present)
Certified Research Administrator (CRA - 2018104000)
President, DC Society of Professional Engineers (2017-2018)
Member, Institute of Transportation Engineers (ITE); Membership # 30196
Member, American Society of Civil Engineers; Membership # 497536
Member, National Society of Professional Engineers; Membership # 300172024
Licensed Professional Engineer (P.E.) in DE (#24979)
Licensed Professional Engineer (P.E.) in DC (#901658)
Licensed Professional Engineer (P.E.) in VA (#044186)
Licensed Professional Engineer (P.E.) in MD (#35389)
Registered Professional Traffic Operations Engineer (PTOE #2404)
Project Management Professional (PMP # 1777762)