See all Profiles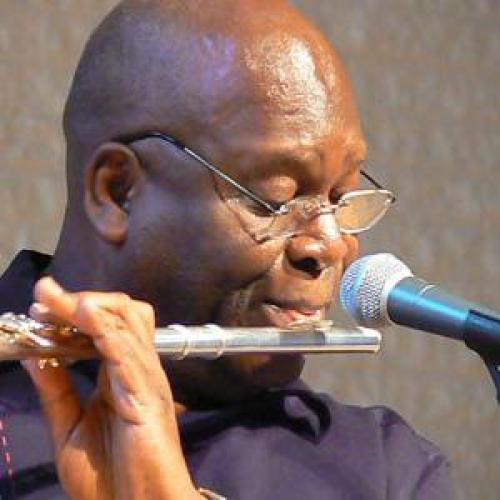 Faculty
Faculty
Saïs Telmeth Kamalidiin, Ph.D.
Associate Professor – Flute, Jazz History; Coordinator of Graduate Examinations
Biography
Coordinator of Graduate Studies;  African and African American Music History /Jazz History; Professor of Ethnomusicology; Coordinator of Flute Studies
Childers Hall, Room 3016
(202) 806-7093
skamalidiin@howard.edu
Dr. Saïs Kamalidiin is a 1989 graduate of Howard University with a master's degree in music performance [Jazz Studies / Flute]. He received his Ph.D. in music research [Ethnomusicology] from the University of Maryland, College Park. He is also a graduate in music education from Texas Southern University in Houston, Texas. He has taught at the Duke Ellington School of the Arts, the University of Maryland/ Global  and Gallaudet University. Internationally, he has lectured at the Evelyn Hone College of Music in Lusaka, Zambia. In 1995, Dr. Kamalidiin received the J. William Fulbright Scholarship for one year of fully funded scholarly research in Southern Africa. While in Zimbabwe, Dr. Kamalidiin was the principal flutist with the Harare Symphony Orchestra for the 1995-1996 season and he served on the faculty of the Zimbabwe College of Music. Dr. Kamalidiin has studied flute with Dr. Arthur Dawkins (HU), Mr. Campbell Tolbert(TSU) and Mr. Byron Hester (Houston Symphony). In addition to his duties as the Coordinator of Graduate Studies at Howard University, Dr. Kamalidiin is also the  Professor of Flute Studies. In addition to Howard, he was also on the faculties of the Suitland Center for the Arts in Forestville, Maryland and the University of Maryland, College Park.
Education
Ethnomusicology
Ph.D.
University of Maryland, College Park


Performance (Flute)
M.M.
Howard University


Music Education
B.M.
Texas Southern University