See all Profiles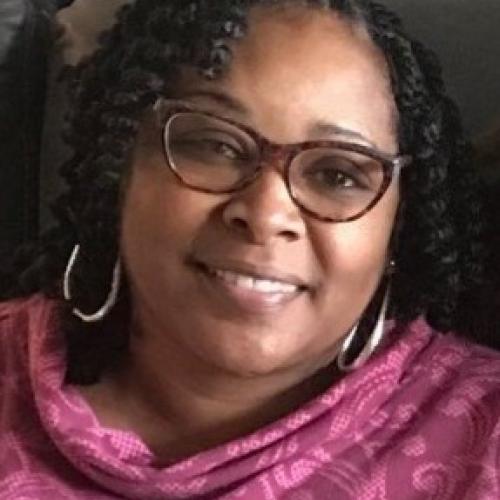 Staff
Staff
Ruth Charlene Franks
(She/Her)
Administrative Officer Institutional Research & Assessment
Department/Office
Institutional Research and Assessment
Biography
Ruth Franks is an dynamic administrative professional with expertise gained from over thirty years of experience in office administration, project management, and financial management, in a complex higher education environment. 
In the Office of Institutional Research and Assessment, she has the opportunity, through administrative support, to contribute to the development and improvement of services and academic programs for staff, students and faculty at Howard University.
As a proud Howard University Legacy parent, Mrs. Franks earned a BS in Adult Education with a minor in Psychology from Howard University School of Education and is an MDiv candidate in Howard University School of Divinity, class of 2023.  Her two adult children also attended Howard University; her daughter, Robyn Franks, a Communications/Journalism major and her son, Gregory Franks, Jr., a 2011 graduate of Howard University School of Business.
Education
Human Development & Psychology
BS
Howard University
2012

Religious Studies
MDiv
Howard University
2023

Expertise
Administrative Officer
Professional with over 30 years of progressively responsible roles in project managment, office management, purchasing, financial reporting, personnel supervision, budgeting and all aspects of dynamic office administration. 
Academics
Introduction to Hebrew Bible/Old Testament
This is a comprehensive study of the Hebrew Bible that centers around the Historical Critical Method of study,  Other methods such as Form Criticism, Source Criticism and Literary Criticism are also utilized in the study of the text.  Dr. John Ahn, who teaches the course is a renown biblical scholar and brings decades of expertise and experience to the classroom.  This class is challenging if you are an evangelical Christian but it offers new perspectives and cutting edge scholarly systems that all biblical scholars need to know.
Systematic Theology I
This Course seeks to pursue several main objectives: To acquaint students with the discipline of theology through select readings of classical and contemporary texts; To examine some issues and foundations of Christian thought, in addition to the rational structure and methods of interpretation that characterize the field of theology; To provide an introduction to the sources and methods used in theological construction, theological reflection and discourse; To examine how such sources and methods may be systematically applied in the interpretation and articulation of the basic doctrines of the Christian Faith; and To address some topics in the Prolegomena to Theology, and to explore some of the historical and current modes of articulating such topics, as well as their appropriate relevance.
Systematic Theology II
This Course will pursue further the basic objectives outlined in SYSTEMATIC THEOLOGY I, which will normally serve as a prerequisite. The various theological perspectives on the doctrines of the Christian faith will be treated critically and systematically. Major doctrines (or themes) will include God, Jesus Christ, Holy Spirit, Theological Anthropology, Sin and Salvation, Church, Sacraments, Mission, Ministry, Eschatology, Religious Belief and the Natural Sciences. Students will also be required to write a Credo Paper, based on their presumed mastery of the theological sources and methodology.
History of the Black Church
This course explores a wide variety of data related principally to the history of black denominational bodies from the period of enslavement to present. The purpose is to enrich personal faith and prepare persons for informed and competent leadership in behalf of God's mission of liberation for all peoples. 
Hebrew Language & Grammar I
This is the first half of a full year introduction to Biblical Hebrew Language and Grammar. Students will master the writing system, basic grammar, and essential vocabulary necessary for reading the prose sections of the Hebrew Bible (Old Testament) in Hebrew. This is an online class taught with a combination of video-taped lectures and three virtual F2F sessions each week at lunch on M-W-F from 12-1 using Zoom video-conference videoconference software, during which time students go over homework and practice pronunciation.
 
Hebrew Language & Grammar II
This is the second half of a full year introduction to Biblical Hebrew Language and Grammar. Using Logos software, students will read the books of Jonah, Ruth, and as much of the first twelve chapters of Genesis as we can get through. They fill out Excel spreadsheets, one worksheet each for verbs, nouns, and other parts of speech, to consolidate their knowledge of vocabulary and grammar, then in class pronounce and translate the material, answering questions about unusual forms.
Accomplishments
Service Awards - Howard University
Received two commendations for Outstanding Student Service as well as a Letter of Commendation from Howard University Division of Nursing as a result of her service as a student advocate and liaison.
Received an Outstanding Performance Award from the Office of the Provost for her work in supporting the Program Prioritization Team in preparing for university-wide program assessment and self-study, in preparation for the Middle States reaccreditation site visit.