See all Profiles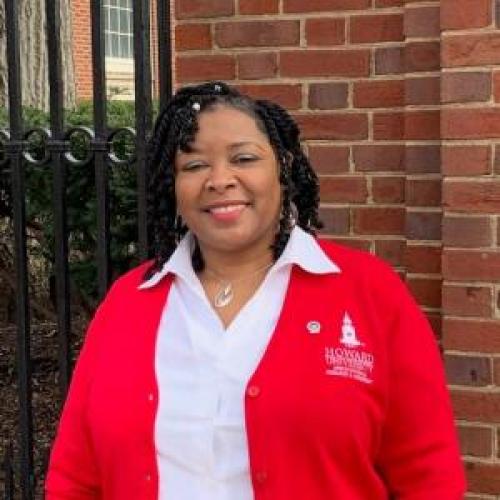 Staff
Staff
Ruth Charlene Franks
(She/Her)
Administrative Officer Institutional Research & Assessment
Department/Office
Institutional Research and Assessment
Biography
Ruth Franks is an dynamic administrative professional with expertise gained from over twenty-five years of experience in office administration, project management, and financial management, in a complex higher education environment. 
In the Office of Institutional Research and Assessment, she has the opportunity, through administrative support, to contribute to the development and improvement of services and academic programs for staff, students and faculty at Howard University.
As a proud Howard University Legacy parent, Mrs. Franks earned a BS in Adult Education with a minor in Psychology from Howard University School of Education and is an MDiv candidate in Howard University School of Divinity, class of 2023.  Her two adult children also attended Howard University; her daughter, Robyn Franks, a Communications/Journalism major and her son, Gregory Franks, Jr., a 2011 graduate of Howard University School of Business.
Education
Human Development & Psychology
BS
Howard University
2012

Religious Studies
MDiv
Howard University
2023

Expertise
Administrative Officer
Professional with over 30 years of progressively responsible roles in project managment, office management, purchasing, financial reporting, personnel supervision, budgeting and all aspects of dynamic office administration. 
Academics
Introduction to Hebrew Bible/Old Testament
This is a comprehensive study of the Hebrew Bible that centers around the Historical Critical Method of study,  Other methods such as Form Criticism, Source Criticism and Literary Criticism are also utilized in the study of the text.  Dr. John Ahn, who teaches the course is a renown biblical scholar and brings decades of expertise and experience to the classroom.  This class is challenging if you are an evangelical Christian but it offers new perspectives and cutting edge scholarly systems that all biblical scholars need to know.
Accomplishments
Service Awards - Howard University
Received two commendations for Outstanding Student Service as well as a Letter of Commendation from Howard University Division of Nursing as a result of her service as a student advocate and liaison.
Received an Outstanding Performance Award from the Office of the Provost for her work in supporting the Program Prioritization Team in preparing for university-wide program assessment and self-study, in preparation for the Middle States reaccreditation site visit.