See all Profiles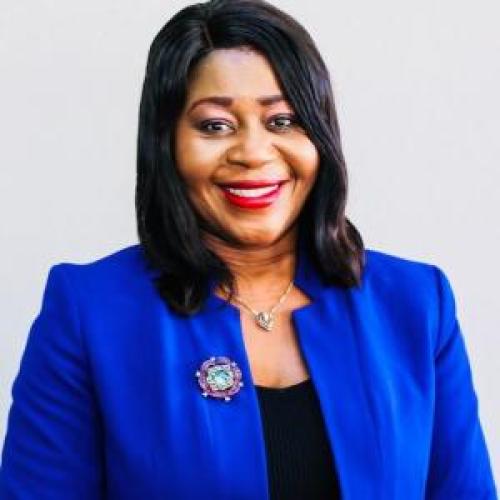 Faculty
Faculty
Njwen Anyangwe
Adjunct Professor
School/College
College of Nursing and Allied Health Sciences
Biography
Dr. Njwen Anyangwe is an Adjunct Professor at Howard University, Washington D.C., where she teaches advanced nutritional science courses to graduate students in the Department of Nutritional Sciences, College of Nursing and Allied Health Sciences. She has over 20 years of university teaching experience, having taught biochemistry, biology, food science, organic chemistry, and nutrition and health courses at the University of Buea (Cameroon), Wayne State University (WSU) (Detroit, Michigan), Prince Georges Community College (PGCC, Maryland) and Madonna University (Livonia, Michigan). She is also a Regulatory Toxicologist with substantial experience in the safety evaluation and risk assessment of food ingredients and color additives.Dr. Anyangwe was previously a Toxicology Reviewer / Oak Ridge Institute of Science and Engineering (ORISE) fellow at the Division of Dietary Supplements at the US Food and Drug Administration (FDA) for 5 years (2008 - 2013). She then joined Exponent Engineering and Consulting Firm, Washington D.C., U.S.A. (2013 - 2015) as a Toxicology and Food Safety Consultant (Senior Scientist), where she provided regulatory and scientific guidance to clients in the food, drug, medical device and chemical industries.Dr. Anyangwe is a multidisciplinary scientist with education, training and experience in biochemistry, cancer biology, molecular biology, nutrition, and regulatory toxicology.  She holds a B.S. degree (First Class Honors) in Biochemistry (1991) from the University of Port Harcourt, Nigeria. Her B.S. research focused on the efficacy of different brands of chloroquine on malaria parasites. She holds a M.S. degree in Medical Biochemistry (1995) from the University of Port Harcourt, Nigeria. Her M.S. research focused on the efficacy of the antidiabetic herbs, Scoparia dulcis and Catharanthus roseus, in the management of Diabetes Mellitus. She obtained her Doctorate Degree in Nutrition and Food Science, with a minor in Cancer Biology / Molecular Biology (2005) from Wayne State University, Detroit, Michigan. Her Ph.D. research focused on the role of the tumor suppressor gene p53 in DNA polymerase β-dependent base excision repair pathway.  She has been a recipient of numerous awards including Best Graduating Female Student, Best Graduating Faculty of Science Student, Best Graduating Biochemistry Student, Dr. Omogbai's Memorial Prize for Best Biochemistry Student, and University of Port Harcourt's Women Prize for Best Graduating Female Student. As a doctoral student, she was a recipient of the Graduate Student Professional Travel Award, Summer Dissertation Fellowship, Department of Nutrition and Food Science Scholarship, Arthur J. Walker Memorial Annual Scholarship, Parent Family Endowed Scholarship, Graduate- Professional Scholarship, and Thomas Rumble Fellowship. She was inducted into Wayne State University's Epsilon Beta Chapter of Phi Beta Delta Honor Society for International Scholars in 2002.She completed her post-doctoral research fellowship at Wayne State University School of Medicine, Detroit, Michigan, with assistance from the National Institute of Diabetes and Digestive and Kidney Disorders (NIDDK) minority RO1 supplement. Her post-doctoral research focused on signaling pathways in colorectal cancer. She was a BIO-INSTITUTE minority fellow in 2007.Dr. Anyangwe has presented at several scientific meetings and co-authored some peer-reviewed publications. She is a member of several professional organizations including the American Society for Nutrition, the Association for Women in Science, the Food and Drug Law Institute, the Society of Toxicology (SOT) and the African Society for Toxicological Sciences. She is the Newsletter editor for the SOT Special Interest Group (Toxicologists of African Origin) and a scientific reviewer for Regulatory Toxicology and Pharmacology Journal.Dr. Anyangwe has been Keynote speaker, Featured Speaker, Moderator, Panelist or Guest Lecturer in several universities (WSU, University of Maryland, Baltimore County, University of Maryland College Park); fundraising and annual galas (Patcha Cancer Foundation, Serah Rebecca Foundation for Orphans, Atanga Kidney Foundation, ACS All Men's Health Conference, Wisdom, Wealth and Wellness Conferences); mentoring programs (Committee on Diversity Initiatives for the Society of Toxicology- 2018, 2019,  Kuwa Women Foundation); career development programs (University of Maryland Baltimore County; STEAM Festival; WSU Dept. of Nutrition and Food Science); and women conferences (EXSSA USA; OPSAN Bamenda, Cameroon).Her personal interests include cancer prevention, health promotion, mentoring young girls, career development for young science professionals and the empowerment of the girl-child and women.   
Education
Nutrition and Cancer Biology
Ph.D.
Wayne State University
2005

M.S.
Medical Biochemistry
University of Port Harcourt, Nigeria
1995

B.S.
Biochemistry (First Class Honors)
University of Port Harcourt, Nigeria
1992