See all Profiles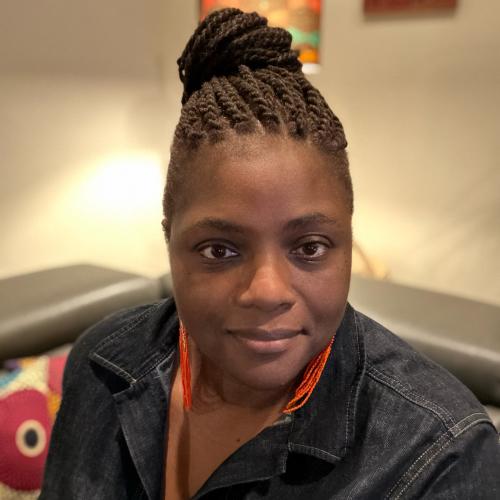 Faculty
Faculty
Msia Kibona Clark
Associate Professor
School/College
College of Arts & Sciences
Graduate School
Additional Positions
Associate Professor

Interdisciplinary Studies
Biography
Dr. Msia Kibona Clark is an Associate Professor of African cultural & feminist studies in the Department of African Studies at Howard University. Her work explores the role of cultural representations in presenting narratives that shape identities and perceptions around race, gender, and sexuality. Her work also explores African feminist activism and cyberactivism in digital and social media spaces. She has published four books (Hip-Hop in Africa: Prophets of the City and Dustyfoot Philosophers, African Women in Digital Spaces: Redefining Social Movements on the Continent and in the Diaspora,  Hip Hop and Social Change in Africa: Ni Wakati, and Pan African Spaces: Essays on Black Transnationalism. Her more recent articles and book chapters include "Hip-Hop and Human Rights in Africa", "Feminisms in African Hip-Hop", "The Contemporary African Diaspora", "The Evolution of a Bicultural Identity, in the Shadows of Nyerere's Pan Africanism", and "African Women and Hip-Hop in the Diaspora".  
She teaches the courses "Black Women & Popular Culture" at Howard University and "Hip Hop and Social Change in Africa", which is a joint course between George Washington University and Howard University. Along with students in the Hip Hop in Africa course, she produces The Hip Hop African Blog hosted at hiphopafrican.com. The site is also home to The Hip Hop African Podcast, which is also on iTunes, Spotify, Amazon Music, Google Play, and other podcast platforms. 
Dr. Kibona Clark was a Fulbright Scholar at the University of Dar es Salaam (2013/14), and she is currently a member of the Board of Trustees for the Diaspora Community of Tanzanians in America (DICOTA), and a member of the Council for the Development of Social Science Research in Africa (CODESRIA) and the African Studies Association of Africa. Additionally, she sits on the editorial boards of the Journal of African Cultural Studies and the Global Hip Hop Studies Journal
Dr. Kibona Clark is also a photographer who has exhibited her work online and in print publications, as well as in art and photo exhibitions in Tanzania and the U.S.  
Education
African Studies
Ph.D.
Howard University
2006

International Relations and Comparative & Regional Studies: Africa
M.A.
American University
2001

Political Science
B.A.
Johnson C. Smith University
1998

Expertise
The Hip Hop African Podcast (2016 - )
The podcast is produced & hosted by Msia Kibona Clark and features discussions on African hip-hop music & culture. The podcast features interviews and discussions with artists from all over the continent and the Diaspora. The podcast is unique in its format and values in-depth discussions with people actively involved in hip-hop culture in Africa and the African Diaspora.
The show has hosted diverse artists, activists, and scholars on topics ranging from language, religion, gender, activism, and politics. The podcast is available on hiphopafrican.com, as well as iTunes, Spotify, GooglePlay, Stitcher, iHeart Radio, and most podcast platforms. 
Academics
Hip Hop and Popular Culture in Africa
This course examines the development of hip hop culture throughout Africa. The course focuses on the role hip hop culture as a method of social commentary and resistance. The course also highlights the role of hip hop artists and culture in social and political changes occurring across the continent in the past 25 years.The course first examines the rise of hip hop in Africa. The course then focuses on the use of hip hop culture's commentary on democracy, corruption, social institutions, and gender. The course also examines the ways in which hip hop culture has engaged youth, social institutions, and the state. The course finally focuses on case studies of hip hop communities in order to show the diversities found across Africa. The case studies look at hip hop and social participation within individual hip hop communities in Ghana, Senegal, South Africa, and Tanzania.The course is taught each spring semester
Black Women & Popular Culture
This course is an examination of the representations of Black (African and African American) women that have dominated popular culture. The course looks at the history of those representations, especially in systems of colonialism and enslavement. These representations have fed tropes about Black women, tropes that have reinforced patriarchal structures, silence around violence against Black women, and domestic policies that negatively impact Black women's lives. The course also looks at how Black women are creating content to challenge those familiar tropes. The course considers how women create their own representations, which create spaces within patriarchal environments for women to exercise their agency and create counter narratives.
Social Media & Political Change in Africa and the U.S.
In this course students will examine sociall movements that center around Black lives in both Africa and the United States, through the lens of social media. Students will learn how social media and "hashtag activism" has been used by Black activists in Africa and the United States to carry out historic movements for change. These political and revolutionary movements in Africa and the United States are globally connected. This course will serve to link the diverse cultural experiences, histories, and perspectives by highlighting the role of social media as a common thread in social movements happening globally, especially movements for Black lives in both Africa and the United States. The course will also engage students in the methods of social and political organizing. Students will learn the process of harnessing social media as sites for social and political organizing.
Related Articles