See all Profiles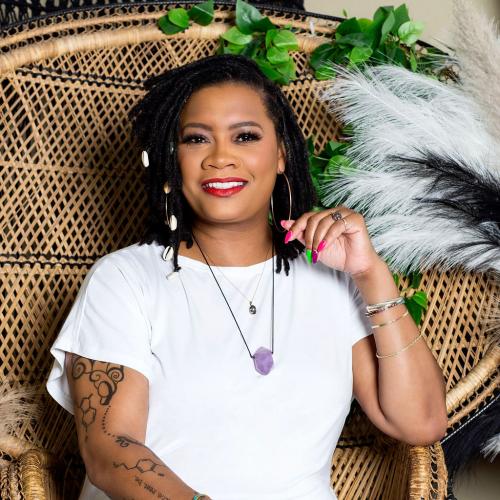 Faculty
Faculty
Monica Lindsey Ponder
Assistant Professor Health Communication & Culture
Department/Office
Communication Culture & Media Studies
Biography
Dr. Monica L. Ponder (she/her/hers) is an Assistant Professor of Health Communication & Culture in the Department of Communication, Culture and Media Studies (CCMS) within the Cathy Hughes School of Communications at Howard University. 
Dr. Ponder's research interests examine organization-level approaches to public health and crisis communication practice, particularly those centering a radical Black feminist lens. She is the creator of The Henrietta Hypothesis, an interdisciplinary model for public health crisis communication. This 16-construct model is named in honor of Henrietta Lacks' iconic (and harmful) experience with the U.S. health care system. This scholarship offers crisis communication recommendations for public health and health care organizations seeking to understand, reach, and engage historically marginalized and racialized groups during public health emergencies. Dr. Ponder is also the co-Principal Investigator of Project REFOCUS (Racial Ethnic Framing of Community-Informed and Unifying Surveillance). Project REFOCUS (PR) conceptualized and developed a novel set of tools communities can use to monitor and address how stigma and racism affect COVID disparities with the goal of creating a more effective response to COVID-19 and other public health crises in a community.  Ultimately, Dr. Ponder aims to advance traditional health communication practice from operating solely at the individual-level of behavior change into one that centers cultural perspectives and environmental context in its design. 
As a scholar activist, Dr. Ponder has led many successful public health initiatives including advocating for the establishment of lactation rooms (pods) at Hartsfield-Jackson Atlanta International Airport – the world's busiest airport, as well as leading plans for lactation support services for the 2017 National Women's March (Washington, DC), touted as one of the largest protests in the nation's history recognizing the legacy of suffragists, feminists, and other civil rights activists while striving for a more decentralized, intersectional and inclusive movement. As a long-time social entrepreneur, Dr. Ponder advises many community organizations on health communication strategy and community engagement. She also serves as a community partner with the City of East Point, Georgia and Morehouse School of Medicine to identify and address policies that may create or perpetuate health disparities. Dr. Ponder serves as a steering committee member of the Society for Health Communication and as an advisory member of Beyond Sports' Return to Play Fund, which empowers Black and Brown youth through play, mental health, and community connectedness. She is the former Board chair of Georgians for a Health Future and currently serves on the Board of Directors for The Pinky Cole Foundation.
As a lifelong learner and practitioner, Dr. Ponder leverages, in her teaching, her 14+ year career in health communication at the Centers for Disease Control and Prevention. Dr. Ponder views the classroom as a safe space and hopes that, through this process, students become aware of their own power as scholar activists, empowered learners, and as emerging public health change-makers. In the classroom, she seeks to facilitate thoughtful conversations, curator of culturally responsive public health materials, especially those that center Black knowledge and culture, and to be a collaborator in knowledge production and intellectual curiosity. 
Dr. Ponder holds BS and MS degrees in Chemistry from Clark Atlanta University, a MSPH in Epidemiology from Emory University and a PhD in Communication from Georgia State University. 
Education
BS - Chemistry

Clark Atlanta University


MS - Biochemistry

Clark Atlanta University


MSPH - Epidemiology

Emory University


PhD - Communication (Health/Crisis)

Georgia State University


Expertise
Public health communication
Crisis communication (interdisciplinary)
Arts, coping and healing
Critical & cultural approaches to health communication
Decolonizing traditional public health methodology
Moving images as a tool for social justice
Related Articles
What happens when the crisis seemingly never ends? Perspectives in Health Communication
Ponder ML. What happens when the crisis seemingly never ends? Perspectives in Health Communication Ethnicity & Disease 2022;32(2):165-168.
Adequacy of existing surveillance systems to monitor racism, social stigma and COVID inequities: a detailed assessment and recommendations
Ford CL, Amani B, Harawa NT, Akee R, Gee GC, Sarrafzadeh M, Abotsi-Kowu C, Fazeli S, Le C, Nwankwo E, Zamanzadeh D, Ovalle A, and Ponder ML. Adequacy of existing surveillance systems to monitor racism, social stigma and COVID inequities: a detailed assessment and recommendations. International Journal of Environmental Research and Public Health 2021; 18(24):13099. https://www.mdpi.com/1660-4601/18/24/13099
Sharing Black Trauma as COVID-19 Crisis Communication Tactic: assessing communications from a regional hospital system in Albany, Georgia
​​​​​​Ponder, ML, Ameen, K., & Tindall, NT. (2022) Sharing Black Trauma as COVID-19 Crisis Communication Tactic: assessing communications from a regional hospital system in Albany, Georgia. Journal of Communication in Healthcare
An Equity-Based Scoring System for Evaluating Public Health Surveillance Systems
Amani B, McAndrew B, Sharif MZ, Garcia J, Nwankwo E, Cabral A, Abotsi-Kowu C, Khan H, Le C, Ponder ML and Ford CL. An Equity-Based Scoring System for Evaluating Public Health Surveillance Systems, Ethnicity & Disease [in press]
Undocumented Hispanic Immigrants' Perceived Stigma, Social Barriers, Coping and Adapting during COVID-19
Ponder, ML., Lindsey, J., & Sun, W. (2022). Undocumented Hispanic Immigrants' Perceived Stigma, Social Barriers, Coping and Adapting during COVID-19. Qualitative Research Reports in Communication. https://www.tandfonline.com/doi/full/10.1080/17459435.2022.2080757
Knowledge, Attitudes, and Beliefs Related to Hypertension and Hyperlipidemia Self-Management among African-American Men Living in the Southeastern United States
Long, E. Ponder, ML. & Bernard, S. (May 2017). Knowledge, Attitudes, and Beliefs Related to Hypertension and Hyperlipidemia Self-Management among African-American Men Living in the Southeastern United States. Patient Education and Counseling. 100(5): 1000-1006. doi: 10.1016/j.pec.2016.12.011