See all Profiles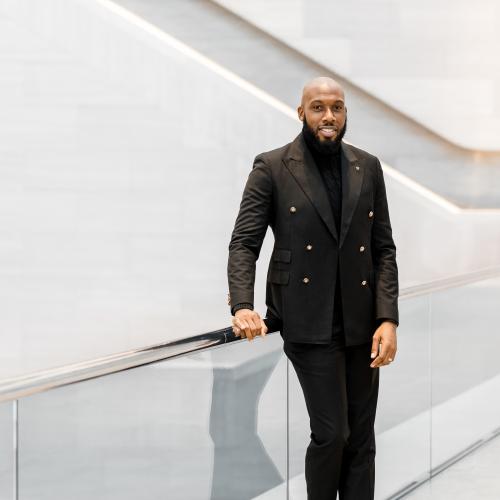 Faculty
Faculty
Maurice B. Fluitt, PhD
Assistant Professor
Biography
Maurice B. Fluitt, PhD is an Assistant Professor and GHUCCTs KL2 Scholar at the Howard University College of Medicine in the Division of Endocrinology and Metabolism. He currently leads the Laboratory of Epigenetic and Metabolic Research (LEMR@HU). His research aims to elucidate the epigenetic events involved in developing type 2 diabetes and its microvascular complications. Specifically, his current work investigates the role of non-coding RNAs as early markers, mediators, and therapeutic interventions for type 2 diabetes mellitus and its renal complications.
Prior to joining the faculty at HUCM, Dr. Fluitt completed two competitive post-doctoral fellowships at Georgetown University as an NIH-TL1 post-doctoral fellowship through the Georgetown Howard Universities Center for Clinical and Translational Sciences and an American Diabetes Association Minority Fellow. He completed his doctoral studies in Genetics and Human Genetics at Howard University. His dissertation research focused on hunger hormones (i.e., ghrelin) in type 2 diabetic adolescents and the use of erythrocyte microRNAs as markers of type 2 diabetes in African Americans. He earned his Bachelor of Science in Biology and Allied Health from Chowan University (2009) (Murfreesboro, NC).
Education
Doctor of Philosophy
Genetics and Human Genetics
Howard University
2016

Master of Science
Genetics and Human Genetics
Howard University
2011

Bachelor of Science
Biology
Chowan University
2009

Research
Specialty
Epigenetic Regulation in Diabetic Kidney Disease
Group Information
The Laboratory of Epigenetic and Metabolic Research at Howard University studies the mechanisms of diabetic kidney disease. Our research focuses on the molecular mechanisms that drive the early development and progression of diabetic kidney disease and how these mechanisms are regulated by epigenetic events in kidney cells. By understanding the mechanisms of disease development and progression, especially at the earliest stages of the disease, we aim to prevent and/or slow fibrotic scarring and organ dysfunction.
We are always interested in hearing from highly motivated postdocs, Ph.D. candidates, and undergraduate students. Research in our laboratory is divided into two main themes: 1. identifying biomarkers for diabetic kidney disease, and 2. understanding the mechanisms of disease development and progression in the diabetic kidney to attenuate disease progression. If you are interested in joining our group, please send your CV/Resume to maurice.fluitt@howard.edu