See all Profiles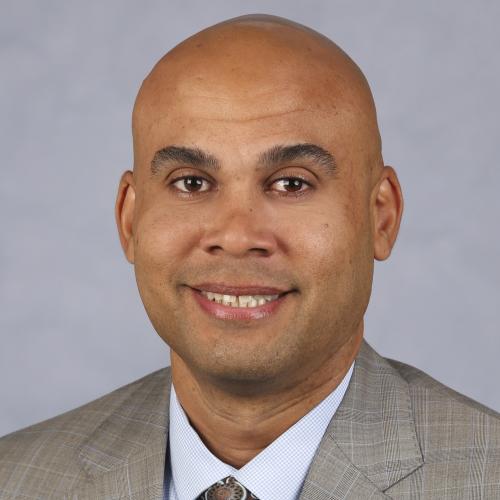 Faculty
Faculty
Leslie Allan Deane
(he/him)
R. Frank Jones Endowed Professor & Chief, Division of Urology, Department of Surgery
Biography
Dr. Leslie A. Deane MB.BS, MS, FRCSC, FACS
Dr. Leslie Deane is a minimally invasive robotic surgeon and endourologist on faculty at Howard University where he is Professor and Chief of the Division of Urology and the R. Frank Jones Endowed Professor of Surgery. He is on staff as an attending Urologist at Howard University Hospital. Prior to joining the faculty at Howard University, Dr. Deane was Professor of Urology at the University of Miami Miller School of Medicine and an attending urologist at University of Miami Health System, Jackson Memorial Hospital and the Bruce W. Carter Miami Veterans Affairs Health System, the latter where he served as the Section Chief for Urology. After completing his fellowship, Dr. Deane spent 11 years in Chicago, Illinois, first as an Assistant Professor of Urology and Director of Laparoscopy, Endourology and Robotic Urologic Surgery at the University of Illinois, Chicago, and then as an Associate Professor of Urology at Rush University Medical Center.
Dr. Deane is a graduate of the University of the West Indies School of Clinical Medicine and Research at Cave Hill, having his medical degree conferred in 1998, with honors in Anatomy and Obstetrics and Gynecology. Dr. Deane was the recipient of the Merck, Sharpe and Dohme Clinical Prize in Medicine. He went on to pursue training in Urological Surgery at the University of Toronto and its prestigious affiliated teaching hospitals, including Sunnybrook and Women's College, the Toronto General Hospital, St. Michael's Hospital, the Hospital for Sick Children (SickKids), Princess Margaret Hospital, Mount Sinai Hospital of Toronto and the Toronto Western Hospital. He is a Fellow of the Royal College of Surgeons of Canada and a Fellow of the American College of Surgeons. He is Board Certified by the American Board of Urology, a Diplomate of the American Board of Urology and holds licensure in the District of Columbia, Florida and California. Dr. Deane also holds a Masters Degree in Clinical Research from Rush University and is currently pursuing a Health Executive MBA at the University of Miller Herbert School of Business.
Dr. Deane is subspecialty trained in Laparoscopy, Endourology and Robotic Urologic Surgery, having completed a 2-year clinical and research fellowship at the University of California Irvine and UC Irvine Medical Center, under the tutelage of Dr. Ralph Clayman, Dr. Elspeth McDougall and Dr. Thomas Ahlering, each pioneers in minimally invasive, robotic urologic surgery and endourology.
Dr. Deane specializes in the minimally invasive management of urologic malignancies including cancers of the prostate, bladder, ureter and kidney and has extensive experience in robotic surgery for these conditions. He also treats complex kidney stone disease and obstructions of the upper urinary tract requiring reconstruction.
Robotic surgery for these conditions has significantly lessened the recovery period, as in most instances the traditional large incision is unnecessary.
Dr. Deane also performs these complex robotic procedures in patients who are unwilling to accept blood and blood products for religious or other reasons. This means that with such meticulous attention to detail, the overall risk and rate of requiring a blood transfusion is exceedingly low.
In his academic faculty and university role, Dr. Deane teaches medical students and surgical residents both in the clinic and the operating room. He has served as a mentor for underrepresented minority students and for undergraduate students interested in pursuing a career in medicine.
Dr. Deane has published over 60 peer reviewed manuscripts and has described several techniques in urological surgery. He has presented his work at numerous national and international conferences and has been an invited speaker at several venues.
Over the past decade and a half Dr. Deane pioneered approaches in minimally invasive urological surgery that avoid the use of narcotic/opioid based medications for post operative pain control.
Dr. Deane is currently pursing a Health Executive Masters of Business Administration at the University of Miami Herbert School of Business.
Education
MB.BS
Medicine
The University of the West Indies School of Clinical Medicine and Research, Cave HIll Campus, Barbados
1998


Clinical and Research Fellowship in Laparoscopy, Endourology and Robotic Urological Surgery, the University of California Irvine
2007

MS
Master of Sciences (Clinical Research)
Rush University Graduate School
2016

FRCSC
Specialist Certificate in Urological Surgery
The University of Toronto
2005

FACS
Fellow of the American College of Surgeons

2015

Expertise
Clinical and Research Fellowship in Laparoscopy, Endourology and Robotic Urological Surgery, the University of California Irvine, 2007
Accomplishments
Honors in Anatomy, 1996
Honors in Obstetrics & Gynecology, 1998
Merck Sharpe & Dohme Clinical Prize in Medicine, 1998
Urology Faculty Teaching Award, University of Illinois at Chicago, 2013