See all Profiles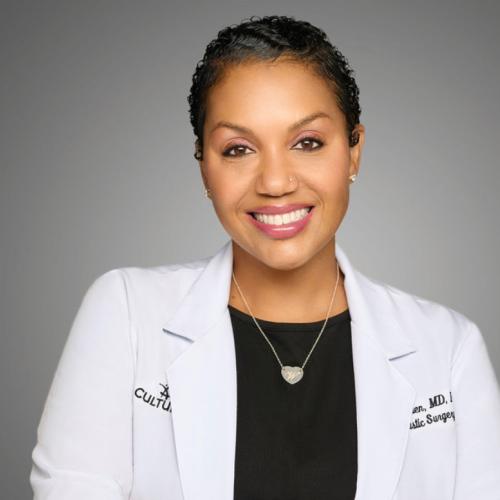 Faculty
Faculty
Kelly Bolden
(She/Her)
Assistant Professor
Biography
Dr. Kelly Bolden is a double board certified plastic surgeon with extensive training from some of the best institutions in the country.   Known for her warm and inviting demeanor, Dr. Bolden has developed a comprehensive plastic surgery practice catering to patients from all walks of life. 
Hailing from Houston, Texas, Dr. Bolden was awarded a full academic scholarship from NASA Women In Science and Engineering (WISE) and graduated with honors with a dual degree in Chemistry from Spelman College and Chemical Engineering from the Georgia Institute of Technology.  Dr. Bolden received her medical doctorate from Baylor College of Medicine and went on to receive training in general surgery at Emory University, followed by plastic surgery training at the world-renowned University of Texas at Southwestern.  Dr. Bolden then received state-of-the-art training in microsurgery at Mercy Medical Center in Baltimore with an emphasis on cosmetic and reconstructive breast surgery.
Dr. Bolden has been in practice in Washington, DC since 2011. She specializes in cosmetic and reconstructive breast surgery, body sculpting, body contouring after massive weight loss, gender confirmation top surgery, and facial rejuvenation with an emphasis on skin of color.
Outside routine clinical practice, Dr. Bolden's passion is providing advanced surgical techniques in breast reconstruction to underserved communities both domestically and internationally.  She is an Assistant Professor at Howard University Hospital providing support to the Cancer Center and Bariatric Center of Excellence, and she participates in international mission trips promoting breast health with an emphasis on African nations. She is presently medical director and plastic surgeon at Cultura Dermatology and Plastic Surgery.
Dr. Bolden is board certified by the American Board of Plastic Surgery as well as the American Board of Surgery.  She is a member of the American Society of Plastic Surgeons, National Capitol Society of Plastic Surgeons, Society of Black Academic Surgeons, and a Fellow of the American College of Surgeons.  In addition to Dr. Bolden's academic and professional accolades, Dr. Bolden is most notable for providing compassionate, focused, functional and transformative care to all of her patients.  She understands that every patient is unique and takes considerable time and effort to develop a specific plan of care based on the individual.