See all Profiles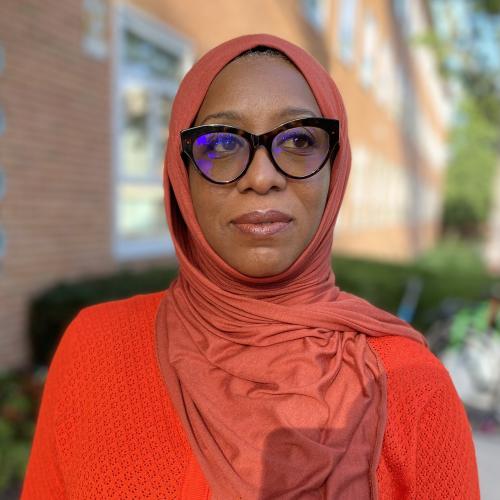 Faculty
Faculty
K.E. Coney
Adjunct Lecturer
Additional Positions
Co-Executive Director

Gallery of Art
Biography
K.E. Coney-Ali is an cultural historian and educator who specializes in African and Diaspora Studies. Coney-Ali has a B.F.A. in Art Management with a minor in Painting and M.A. in Art History in Visual Culture as well as graduate certificate in International Studies from Howard University. Additionally, she has a professional studies certificate in Preservation Management from Rutgers University and is currently completing her doctoral studies at Howard University. As an educator, Coney-Ali serves as a lecturer of African art history and graduate thesis studies in the Department of Art at Howard University. Her professional work experience in the cultural arts field runs the gamut, from communications at the National Endowment for the Arts (NEA) to museum registration and collection management at the Smithsonian National Museum of the American Indian and Reginald F. Lewis Museum of Maryland African American History of Culture, and interim directorship at Howard University Gallery of Art.
Coney-Ali served as lead researcher, writer, and copyeditor on publications for the NEA and exhibitions at the Reginald F. Lewis Museum. As a writer, she has authored articles for the Smithsonian Institution's Center for Folklife and Cultural Heritage "A Sailboat's Journey from Kenya to the Smithsonian" and National Museum of African Art publication Connecting the Gems of the Indian Ocean: From Oman to East Africa. Through her work, Coney-Ali has developed international projects that foster strategic partnerships and cultivate sustainable heritage management programs which provide education programming and global cross-cultural awareness. In 2010, she developed and curated "In Their Own Voices" project securing an American Alliance of Museums (AAM) Museum and Community Collaboration Abroad program grant for the National Museums of Kenya Lamu Museums. As cross-cultural exchange program, the project provided a curriculum for primary school students to culturally explore their voices through oral traditions, creative writing, and digital storytelling.
In her dedication and commitment to the arts, cultural diversity, and heritage management her focus includes community capacity building in effort to promote education and social protection while safeguarding cultural integrity in marginalized communities. She has served as a Swahili cultural consultant and participant for the Smithsonian 2014 China and Kenya Folklife Festival. During the same year, she was an UNECSO endorsed 2014 World Monuments Fund Watchlist nominator and spokesperson for the World Heritage Site Lamu Old Town in Kenya. More recently, the US Department of State Mandela Washington Leadership Initiative recognized Coney-Ali as a 2018 Reciprocal Exchange American Professional for her collaborative women and youth agricultural extension project "Kilimo Cha Baraka" in Mbita, Kenya. The scope of Coney-Ali's work advocates for socio-economic empowerment, rehabilitation, and revitalization in the development of arts-based programming by means of curating and preserving the living culture of people from Africa and the Disapora.