See all Profiles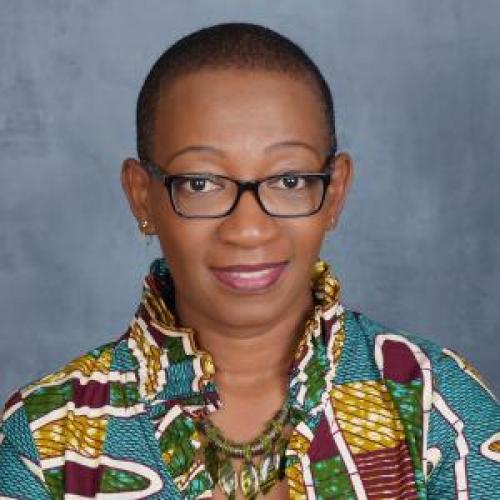 Faculty
Faculty
Josephine Jarpa Dawuni
(önu/ita/moom/ô)
Associate Professor
School/College
College of Arts & Sciences
Biography
J. Jarpa Dawuni is Associate Professor of Political Science at Howard University, Washington D.C. She is a qualified Barrister-at-Law before the Ghana Superior Courts. She holds a Doctorate in Political Science from Georgia State University. Her primary areas of research include judicial politics, women in the legal professions, gender and the law, international human rights, women's civil society organizing, and democratization. Her recent books include: Intersectionality and Women's Access to Justice in Africa (Lexington, 2022), Gender, Judging and the Courts in Africa: Selected Cases (Routledge, 2021),  International Courts and the African Woman Judge: Unveiled Narratives (Routledge, 2018) co-edited with Judge Akua Kuenyehia and Gender and the Judiciary in Africa: From Obscurity to Parity? (Routledge, 2016), co-edited with Gretchen Bauer. In 2018 she was a Fulbright Specialist Scholar to Ghana where she designed a Center for Research in African Union Law. In 2016, she was awarded the Carnegie African Diaspora Fellowship to undertake a project on graduate student mentoring and research at the Faculty of Law, University of Ghana.
She is the founding Director of the Howard University Center for Women, Gender, and Global Leadership established in 2020. In 2020 she was the recipient of the Women in Law Academia International Award from the Women in Law Initiative, Austria. In 2016, she received the President Obama White House Presidential Award for her service on the Board of ARA-W. She is a Fellow at the Center for Democratic Development (CDD) Ghana. She is a Visiting Professor in the UNESCO Peace Masters Program at the University of Jaume 1 in Castellon, Spain. She has been a Visiting Scholar at Queens University, Kingston, Canada, and the University of Copenhagen iCourts Program in Denmark. She is the founder and Executive Director of the non-profit Institute for African Women in Law (IAWL) which focuses on enhancing the capacity of women in the legal professions in Africa and the Diaspora. She was a Global Scholar at the Wilson Center Women in Public Service Project. She served on the board of the West Africa Research Association (WARA) and the African Research Academies for Women (ARA-W).
Dr. Dawuni belongs to several professional bodies and is currently the Co-Convener of the Gender and Judging Collaborative Research Network of the Law and Society Association, Co-Convener of the Women's Caucus of the African Studies Association, and the Co-Convener of the Women and Gender Studies Collective at Howard University. She sits on the editorial board of the Journal of International Politics and Development (JIPAD) and the Peter Lange Book Series on Studies in Law and Politics. Her research has appeared in journals such as Studies in Gender and Development in Africa, Journal of African Law, University of Baltimore Law Journal, and Africa Today.  Dr. Dawuni has presented her research internationally at professional conferences and has been invited to speak at several universities, and international events and conferences.
Education
Comparative Politics and International Relations
Ph.D.
Georgia State University


Masters in International Development
M.A
Ohio University


Law
Barrister -at- Law
Ghana School of Law


Law
Bachelor of Law (LLB)
University of Ghana


Expertise
Comparative African politics
Gender and judging, Women and the legal professions
Women and the Law
Judicial politics and rule of law in Africa
International human rights-- violence against women and girls, human trafficking
Democratization and women's civil society organizing
International law-- international courts and tribunals, women in international diplomacy
Academics
Gender, law and politics (undergraduate)
African Nationalism (undergraduate)
Introduction to political science (undergraduate)
Africa in World Politics (graduate)
International Law (graduate)
Political Leadership in Africa (graduate)
Women and Politics: Comparative Perspectives (graduate)
Research
Specialty
Comparative Gender and the Law; Judicial Politics in Africa; Violence Against Women; Gender, Law and Development
Accomplishments
100 Women Law Firm/Organization Founders (Court Room Mail, Nigeria, 2021)
Winner: Women in Academia - Women in Law Initiative- Vienna, Austria, 2020
Outstanding Assistant Professor (COAS) 2018
The White House: President Obama's Volunteer and Service Award (2016)
Outstanding Registered Student Organization Advisor. Georgia Gwinnett College (2013)
Outstanding Student Engagement Award. Georgia Gwinnett College (2012)
Fulbright Specialist Scholar
Global Fellow: Wilson Center Women in Public Leadership Program. Washington, DC.
Visiting Scholar: Queens University. Faculty of Law, Kingston, ON, Canada.
Carnegie African Diaspora Fellow
Visiting Scholar: University of Copenhagen. Faculty of Law iCourts The Danish National Research Foundation's Center for Excellence in International Courts.
Related Articles
Visit my bepress page
Research and Publications