See all Profiles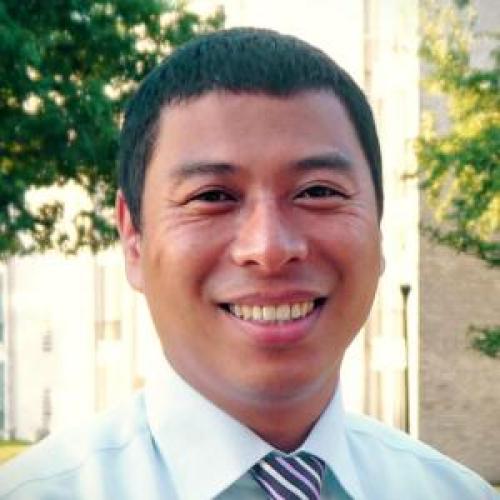 Faculty
Faculty
Hyung D. Bae
(He/his)
Assistant Professor
Department/Office
Department of Mechanical Engineering, CEA
School/College
College of Engineering and Architecture (CEA)
Biography
Dr. Hyung D. Bae received his B.S. M.S. degree in mechanical engineering of Yonsei University, Seoul, Korea, in 2004 and 2006, respectively, and a Ph.D. degree in mechanical engineering of the University of Maryland in 2013. He was a Research Assistant of the Mechanical Engineering Department at the University of Maryland from 2013 to 2016. He joined Howard University as a faculty in 2016. He was a nominee of A. James Clark School of Engineering fellowship from the University of Maryland (2008–2011) and is one of the inventors of U.S. patent, "Ultra-miniature fiber-optic pressure sensor system and method of fabrication". He is a member of the American Society of Mechanical Engineers (ASME) and the Optical Society (OSA). His current research interests include polymer-based fiber optic sensors, bioinspired sensor systems, and 3D printed structures. Currently, he works on three funded-research projects on fiber optic sensors for chemical detection/biological sensing, and 3D printed pressure vessel.
Education
Mechanical Engineering
Ph.D.
University of Maryland, College Park
2013

Mechanical Engineering
M.S.
Yonsei University, Seoul, Korea
2006

Mechanical Engineering
B.S.
Yonsei University, Seoul, Korea
2004

Academics
MEEG 450-01 MEMS (micro-electro-mechanical systems)
This course teaches students the fundamentals of MEMS (Micro-Electro-Mechanical Systems), MEMS applications, and various micro/nanofabrication processes. Students will also learn MEMS devices' design considerations such as molecular dynamics, fluid flows, and heat transmission in micro/nanoscale and materials for MEMS. Various microsystem fabrication processes will be introduced, such as photolithography, oxidation, chemical vapor deposition, etching, etc. Students will also learn how to collaborate with peers to design microsystems and present their ideas through the group project.
MEEG 350-01 Computer Aided Engineering
This course teaches students how to use commercially available Computer Aided Engineering software for multidisciplinary system design and optimization. With the acquired skill, students will be able to conceptualize complex engineering problems in virtual spaces and solve those by using CAE software (i.e., Fusion 360 and Simscale). Structural, generative design, thermal, heat transfer, and fluid dynamics analysis will be covered in the course with real-world engineering examples. Multiphysics FEM analyses will also be introduced in the class by coupling different analysis types to tackle challenging engineering problems. Students will learn how to work on a multiphysics design project in a team through online meetings, synchronous, and asynchronous communication tools (i.e., Slack and Blackboard).
MEEG 103-01 & 02 Intro to Computer Aided Design
This course teaches students how to create solid models, assemblies, and 2D drawings using Fusion 360 3D modeling software developed by Autodesk Inc. With the acquired skill, students will be able to design engineering parts/assemblies for machining, manufacturing, and 3D printing. Modeling and assembly of 3D design can also be used in future design classes in product design and various engineering simulations (structural, thermal, motion, multiphysics analysis, etc.). At the end of the course, Siemens NX12 will be introduced to students to broaden students' 3D modeling skills.
Research
Specialty
Micro/nano fabrication, chip-scale optofluidics, and multi-functional fiber optic sensors (temperature, pressure, strain, and chemical sensing for biomedical applications)
Funding
DARPANSFDOE
Accomplishments
DARPA Young Faculty Award, 2018
IEEE/OSA Journal Top Reviewer Award, 2017
Invention Disclosure Finalist, University of Maryland, 2012
A. James Clark Fellowship, School of Engineering, University of Maryland 2008-2011
First Place Award in the 1st Creative Design Contest, School of Engineering, Yonsei University, Seoul, Korea 2003
Merit-based scholarship, Department of Mechanical Engineering, Chungnam National University, Daejeon, Korea, 2001
Related Articles
Miniature Diamond-Based Fiber Optic Pressure Sensor with Dual Polymer-Ceramic Adhesives
H. Bae, A. Giri, O. Kolawole, A. Azimi, G. Harris, A. Jackson (2019) "Miniature Diamond-Based Fiber Optic Pressure Sensor with Dual Polymer-Ceramic Adhesives", Sensors Journal, Volume 19, Issue 9, pp. 2202, https://doi.org/10.3390/s19092202
Miniature fiber optic acoustic pressure sensors with air-backed graphene diaphragms
Q. Dong, H. Bae, Z. Zhang, Y. Chen, Z. Wen, D. A. Olson, M. Yu, H. Liu (2019) "Miniature fiber optic acoustic pressure sensors with air-backed graphene diaphragms", Journal of Vibration and Acoustics, Volume 141, Issue 4, pp. 041003, DOI: 10.1115/1.404
Low cost, high performance white-light fiber-optic hydrophone system with a trackable working point
J. Ma, M. Zhao, X. Huang, H. Bae, Y. Chen, M. Yu (2016) "Low cost, high performance white-light fiber-optic hydrophone system with a trackable working point", Optics Express, Vol. 24, Issue 17, pp. 19008-19019, DOI: https://doi.org/10.1364/OE.24.019008
Liquid Viscosity Measurement Using a Vibrating Flexure Hinged Structure and a Fiber-Optic Sensor
J. Ma, X. Huang, H. Bae, Y. Zheng, C. Liu, M. Zhao, and M. Yu (2016) "Liquid Viscosity Measurement Using a Vibrating Flexure Hinged Structure and a Fiber-Optic Sensor", IEEE Sensors, Vol. 16, Issue 13, pp. 5249-5258, DOI: 10.1109/JSEN.2016.2562740
On-Fiber Plasmonic Interferometer for Multi-Parameter Sensing
Z. Zhang, Y. Chen, H. Liu, H. Bae, D. A. Olson, A. K. Gupta, M. Yu (2015) "On-Fiber Plasmonic Interferometer for Multi-Parameter Sensing," Optics Express, Vol. 8, Issue 5, pp. 10732-10740, DOI: https://doi.org/10.1364/OE.23.010732
Enhanced acoustic sensing through wave compression and pressure amplification in anisotropic metamaterials
Y. Chen, H. Liu, M. Reilly, H. Bae, M. Yu (2014) "Enhanced acoustic sensing through wave compression and pressure amplification in anisotropic metamaterials," Nature Communications, 5, Article number: 5247, DOI: 10.1038/ncomms6247
Optofluidic microvalve-on-a-chip with a surface plasmon-enhanced fiber optic microheater
H. Kim, H. Bae, Z. Zhang , A. Kusimo, M. Yu (2014) "Optofluidic microvalve-on-a-chip with a surface plasmon-enhanced fiber optic microheater," Biomicrofluidics, Vol. 8, Issue 5, pp. 054126, DOI: http://dx.doi.org/10.1063/1.4900978
Characterization of wave physics in acoustic metamaterials using a fiber optic point detector
R. Ganye, Y. Chen, H. Liu, H. Bae, Z. Wen, M. Yu (2016) "Characterization of wave physics in acoustic metamaterials using a fiber optic point detector", Applied Physics Letters, Vol. 108, Issue 26, pp. 261906, DOI: http://dx.doi.org/10.1063/1.4955058
Hybrid Miniature Fabry–Perot Sensor with Dual Optical Cavities for Simultaneous Pressure and Temperature Measurements
H. Bae, D. Yun, H. Liu, D. A. Olson, M. Yu (2014) "Hybrid Miniature Fabry–Perot Sensor with Dual Optical Cavities for Simultaneous Pressure and Temperature Measurements," J. Lightwave Technol., Vol. 32, Issue 8, pp. 1585-1593
MEMS Fabry-Perot Sensor Interrogated by Optical System-On-A-Chip for Simultaneous Pressure and Temperature Sensing
C. Pang, H. Bae, M. Yu, A.K. Gupta, M. Bryden (2013) "MEMS Fabry-Perot Sensor Interrogated by Optical System-On-A-Chip for Simultaneous Pressure and Temperature Sensing," Opt. Express, Vol. 21, Issue 19, pp. 21829-21839, DOI: https://doi.org/10.1364/OE.21.021829
Miniature Fabry-Perot pressure sensor created by using UV-molding process with an optical fiber based mold
H. Bae and M. Yu, (2012) "Miniature Fabry-Perot pressure sensor created by using UV-molding process with an optical fiber based mold," Opt. Express, Vol. 20, Issue 13, pp. 14573-14583, DOI: https://doi.org/10.1364/OE.20.014573