See all Profiles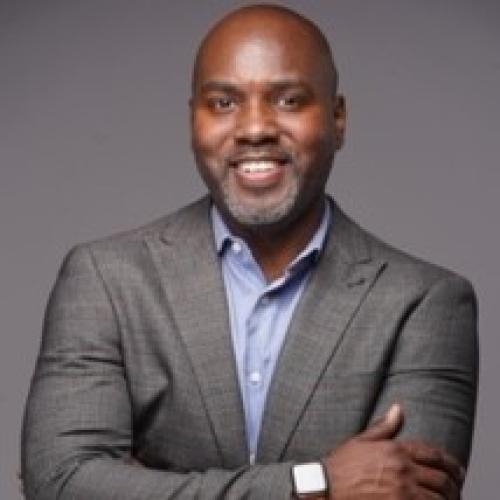 Faculty
Faculty
Gregory Carl Hutchings, Jr., Ed.D.
Assistant Professor and Program Coordinator
Department/Office
Educational Leadership & Policy Studies
Biography
Dr. Gregory C. Hutchings, Jr. is a nationally recognized educational leader, antiracism activist, and published author who unapologetically advocates for Black, Indigenous, and People of Color (BIPOC) and racial equity in education. He is the founder and chief executive officer of Revolutionary ED, LLC and currently serves as an assistant professor and program coordinator in the School of Education's Educational Leadership & Policy Studies program. 
Dr. Hutchings has over twenty-four years of combined educational experience as a college admissions counselor, teacher, school principal, central office administrator, superintendent, and college professor. He specializes in antiracism in education, educational leadership, strategic planning, strategic thinking, professional learning, school board and superintendent relations, and executive coaching.
Dr. Hutchings' life's work is educational leadership and dismantling systemic racism in schools across America. He has received numerous awards for his educational work and leadership, including the 2022-23 Region IV Superintendent of the Year Award with the Virginia Association of School Superintendents and the 2018 recipient of the Joseph E. Hill Superintendent of the Year from the National Alliance of Black School Educators. Dr. Hutchings is the co-author of the book, Getting Into Good Trouble at School: A Guide to Building an Antiracist School System. He has contributed his expertise in education on CNN with Jake Tapper, The Kojo Nnamdi Show, C-SPAN, NPR, and as an opinion writer for EdWeek. 
Dr. Hutchings earned his doctorate in educational policy, planning, and leadership from the College of William & Mary. He currently serves on numerous national boards and is a member of Alpha Phi Alpha Fraternity, Incorporated. Dr. Hutchings is a native of Alexandria, Virginia. He and his wife, Cheryl, are proud parents of two amazing human beings.
Education
Doctor of Education
Educational Policy, Planning & Leadership
The College of William & Mary
2010

Master of Education
Educational Leadership
George Mason University
2003

Bachelor of Science
Interdisciplinary Studies - Math and Science Education
Old Dominion University


Academics
Educational Administration and Governance
Ethics in Decision-Making
Internship in Educational Administration
Research
Specialty
General Research: Antiracism in Policy, Planning and Leadership in Urban Education. Specific Focus Areas: Antiracist Practices in PreK-12 Urban School Settings. The African American Superintendency and Dismantling Systemic Racism in Education.
Group Information
Through my practical experiences in education, I have advocated on behalf of African American students through the implementation of equitable educational practices; development of antiracist policies; adoption of a strategic plan focused on racial equity; alternative discipline through restorative practices; and intentional recruitment for teachers of color. As I transition into higher education, I would like to continue my research on Antiracism in Policy, Planning and Leadership in Urban Education. Specifically, I would like to focus my research on the following two areas: Antiracist Practices in PreK-12 Urban School Settings; and African American Superintendents and the Implications for Dismantling Systemic Racism in Education. 
African American students continue to be one of the most marginalized student populations in urban school systems across America. It is an unfathomable reality that disparities for BIPOC students continue to persist in academics, discipline, social-emotional learning, and college preparatory pathways. Race is a social construct that was created to make the White race superior to all other races. Historically, non-White students especially African American students have been underserved due to the systemic racism that continues to be prevalent in American education. Antiracism must be intentional and is the only option to change the racial narrative for African American students. 
One of my research areas will focus on best practices for antiracist education in PreK-12 urban school settings. Most recently, I have co-authored a book, Getting Into Good Trouble at School: A Guide to Building An Antiracist School System, that provides the context, empowerment, and concrete actions needed to dismantle racist policies and practices that for centuries have kept students of color from experiencing educational engagement, opportunities and success as their White counterparts. I have also published in EdWeek and written several OpEds in local and national newspapers on this topic. My original literary works will be expanded through my research with a plan to publish in literary journals such as the Journal of Negro Education, Negro Educational Review Journal, The Black Scholar, and The Journal of African American Males. 
Research shows that African American students benefit from having an African American educator during their academic journey. An African American superintendent can have a profound impact on the education of African American students through their influence on policy development, educational practices, and strategic planning. The African American superintendent continues to be underrepresented in school systems across America and there is limited research on the benefits of African American superintendents leading urban school systems in America. Furthermore, African American superintendents have dealt with more severe implications for attempting to dismantle systemic racism in education. 
Another area of focus for my research will be on the African American superintendent and the challenges faced by advocating for antiracism in school systems across America. As an African American superintendent for 10 years, I have experienced the good, the bad and the ugly with dismantling systemic racism in education. Through firsthand experience, I have witnessed a double standard for African American superintendents and their White counterparts who are striving to lead antiracist school systems. My research using a historical qualitative research approach will focus on African American superintendents who are focused on antiracism and their experiences with politics, school boards, White women opposition, and liberal racists. I am currently working on a journal article co-authored with a Howard University Assistant Professor that will highlight a comparative analysis of Dr. Hugh Scott's 1980 research from his book, The Black Superintendent: Messiah or Scapegoat?, in comparison to the experiences of African American superintendents in 2023. 
In conclusion, working as an Assistant/Associate Professor at Howard University's School of Education will afford me the honor and privilege to research, teach, learn, lead and engage in discourse with like minded educational experts whom many happen to look like me or share the same core values. I have been fortunate to work with exceptional educators throughout my career who helped to mold me into the educational leader, educator, author, and diversity, equity, inclusion and antiracism (DEIA) advocate that I am today. It is my moral responsibility and destiny to use all that I have been given throughout my educational career to pass on to the next generation of African American and other educational leaders. My vision, integrity and passion will continue to be my guiding light as we change the racial narrative for African American students across the Nation through teaching, learning, leadership, and policy development while unapologetically dismantling system racism in education.
Accomplishments
Region IV Superintendent of the Year - Virginia Association of School Superintendents
National Superintendent of the Year Award - 2018 - National Alliance of Black School Educators
The Pathfinder Award - Virginia Association of Elementary Principals (VAESP)
Tom Cookerly Exceptional School Superintendent Leadership Award - National Center for Children and Families
Community Change Maker - Leadership Award - Concerned Citizens Network of Alexandria (CCNA)
Leadership Award 2019 - Kappa Alpha Psi Fraternity, Incorporated
Educational Leadership Award - 100 Black Men of Cleveland, Incorporated
Forty Under 40 Award - Class of 2016 - Crain's Cleveland Business Magazine
Recipient, Middle School Principal of the Year - TN Association of Middle Schools (TAMS)