See all Profiles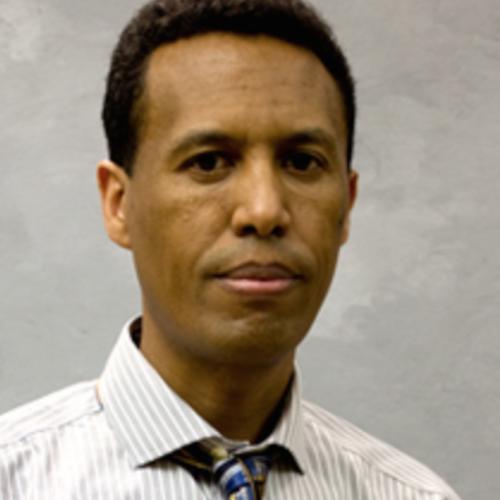 Faculty
Faculty
Dawit Kidane-Mulat, Ph.D.
Associate Professor
Biography
Most cancers treated with targeted therapy ultimately become resistant to treatment, stop shrinking, and eventually progress. Based on the improved understanding of the mechanisms on cancer initiation, promotion and progression model, targeted therapies are emerging as groundbreaking and promising treatment strategies. Dr. Kidane lab uses genetic tools, cancer genomics and metabolomics data approaches to uncover basic mechanism of genomic instability and cancer. Moreover, Dr. Kidane lab developed genetic tools including animal and in vitro models to uncover mechanistic insight how DNA repair deficiency induces innate immune response and inflammation, and applied systems biology approaches to understand the activation and regulation of innate immune signaling. His research program prioritizes pre-clinical research with strong clinical/translational relevance with an emphasis on tumor immunology in gastrointestinal cancer including stomach, colon, and pancreatic cancer. More specific areas of research interest include: -
Oxidative DNA damage and repair
DNA replication stress
Targeting DNA repair deficiency in cancer therapy.
Exploring DNA repair deficiency to elicit inflammatory signaling and enhance immunotherapy.
Manipulating cancer cells metabolic demand to promote better treatment response.
Education
Ph.D.
Genetics
Albert-Ludwig University of Freiburg, Germany


Postdoctoral Fellow

Yale School of Medicine, Therapeutic Radiology and Human Genetics
2007-2011

Expertise
Cancer Genetics &Genomics
DNA Damage & Repair
DNA repair targeted therapy  
Tumor Immunology
Innate immune signaling, Inflammation &Cancer 
Research
Specialty
DNA Damage, Repair and Cancer
Funding
NIH/NCI  
Dawit Kidane-Mulat (PI)           04/01/2021 – 07/31/2024     
Title: The Role of Base Excision Repair in Regulating DNA-Mediated Inflammatory Signaling Pathways
American Gastroenterological Association. Robert & Sally Funderburg Research Award
Dawit Kidane-Mulat (PI)   01/01/21-11/30/24   
Title: Mechanisms of Base Excision Repair and Gastric Cancer.
DeGregorio Family Foundation Research Award    
Dawit Kidane-Mulat  (PI)   01/15/2022-12/30/2024
Title: Harnessing DNA Damage Response to Enhance Immunotherapy Response in XRCC1 Deficient Stomach Cancer.
Group Information
Lab Membres 
Coming Soon!
Graduate students
I am looking for PhD students to start in fall 2023. If you are interested in working on cancer etiology and looking for therapeutic strategy, you may be a good fit in our lab. In all cases, I encourage my students to find, design, and execute their research on their own, with me as a collaborator. I believe this approach helps them to become independent and creative scientists.
Undergraduate students/Medical students
Students are welcome to participate in the research conducted in our lab throughout the year. 
Postdoctoral fellows
Position available.  Welcome inquiries regarding postdoc possibilities in our lab.
Lab Manger/Lab tech
Position available
 Join the lab! 
Accomplishments
Anna Fuller Postdoctoral Fellowship in Molecular Oncology, Yale School of Medicine
Pfizer Award for Excellence in Research
Ellison Medical Foundation Scholarship Award
 Keystone Symposia Scholarship Award from the National Institute of Aging on Genomic Instability and Repair
Infectious Disease Research Recognition Award from Centers of Disease Control
WHO/TDR Training Grant Award for Genomics and Bioinformatics
WHO/TDR Training Grant Award for Immunology and Vaccinology
Related Articles
Saha,A.,  Zhao,S.,  Austin Kindall, Carly Wilder, Chelsea A. Friedman, Rachel Clark, George Georgiou, Everett Stone,  Kidane, D*, John DiGiovanni* . Cysteine Depletion Sensitizes Prostate Cancer Cells to Agents that Enhance DNA Damage and to Immune Checkpoint Inhibition. J Exp Clin Cancer Res. 2023 ;42(1):119. PMID: 37170264; PMCID: PMC10173527; DOI: 10.1186/s13046-023-02677-2.
Zhao, S.; Julia A. Goewey Ruiz; Sebastian, M.; Kidane, D*. DNA Polymerase beta  defects invokes cGAS/STING mediated innate immune signaling and promotes an inflammatory response. Front Immunol. 2022:13:1039009. PMID: 36624848; PMCID: PMC9823925   DOI: 10.3389/fimmu.2022.1039009. eCollection 2022.
Zhao, S.; Habib, S.L.; Senejani, A.G.; Sebastian, M.; Kidane, D*. Role of Base Excision Repair in Innate Immune Cells and Its Relevance for Cancer Therapy. Biomedicines 2022, 10, 557. PMID: 35327359; PMCID: PMC8945362: DOI: 10.3390/biomedicines10030557.
Saha A, Zhao S, Chen Z, Georgiou G, Stone E, Kidane D*, DiGiovanni J. Combinatorial Approaches to Enhance DNA Damage Following Enzyme-mediated Depletion of L-Cys for Treatment of Pancreatic Cancer. Molecular Therapy Feb 2021;29(2):775-787. PMID: 33091613. PMCID: PMC7854304. DOI: 10.1016/j.ymthe.2020.10.016
Zhao S, Devega R, Francois A, Kidane D*. Human ALKBH6 Is Required for Maintenance of Genomic Stability and Promoting Cell Survival During Exposure of Alkylating Agents in Pancreatic Cancer. Frontiers in Genetics April 2021; 12:635808. PMID: 33897761. DOI: 10.3389/fgene.2021.635808
Tran OT, Tadesse S, Chu C, Kidane D*. Overexpression of NEIL3 associated with altered genome and poor survival in selected types of human cancer. Tumor Biology May 2020; 42(5):1010428320918404. PMID: 32364878. DOI: 10.1177/1010428320918404
Zhao S, Thakur M, Klattenhoff AW, Kidane D*. Aberrant DNA Polymerase Beta Enhances H. pylori Infection Induced Genomic Instability and Gastric Carcinogenesis in Mice. Cancers (Basel) June 2019;11(6):843. PMID: 31216714. DOI: 10.3390/cancers11060843
Zhao S, Klattenhoff AW, Thakur M, Sebastian M, Kidane D*. Mutation in DNA polymerase beta causes chromosomal instability and inflammation-associated carcinogenesis in mice. Cancers (Basel) Aug 2019;11(8):1160. PMID: 31412651. DOI: 10.3390/cancers11081160
Kidane D*. Mechanism of H. pylori- induced DNA double-strand breaks. International Journal of Molecular Sciences Sept 2018;19(10):2891. PMCID: PMC6213211. DOI: 10.3390/ijms19102891
Klattenhoff AW, Thakur M, Chu SC, Ray D, Habib SL, Kidane D*. Loss of NEIL3 DNA glycosylase markedly increases replication associated double strand breaks and enhances sensitivity to ATR inhibition in glioblastoma cells. Oncotarget Dec 2017;8(68):112942-112958. PMID: 29348879. DOI: 10.18632/oncotarget.22896
Ray D, Kidane D*. Gut Microbiota imbalance and base excision repair dynamics in colon cancer. Journal of Cancer Jul 2016;7(11):1421-1430. PMID: 27471558. DOI: 10.7150/jca.15480
Tadesse S, Norwitz NG, Guller S, Arcuri F, Toti P, Norwitz ER, Kidane D*. Dynamics of base excision repair at the maternal-fetal interface in pregnancies complicated by preeclampsia. Reproductive Sciences Jun 2017;24(6):856-864. PMID: 27707956. DOI: 10.1177/1933719116670519
Habib SL, Yadav A, Kidane D, Weiss RH, Liang S. Novel protective mechanism of reducing renal cell damage in diabetes: Activation AMPK by AICAR increased NRF2/OGG1 proteins and reduced oxidative DNA damage. Cell Cycle Nov 2016 Nov;15(22):3048-3059. PMID: 27611085. DOI: 10.1080/15384101.2016.1231259
Rozacky J, Nemec AA, Sweasy JB, Kidane D*. Gastric cancer associated variant of DNA polymerase beta (Leu22Pro) promotes DNA replication associated double strand breaks. Oncotarget Sep 2015;6(27):24474-87. PMID: 26090616. DOI: 10.18632/oncotarget.4426
Kidane, D*, Murphy DL, Sweasy JB. Accumulation of abasic sites induces genomic instability in normal human gastric epithelial cells during Helicobacter pylori infection. Oncogenesis Nov 2014;3(11):e128. PMID: 25417725. DOI: 10.1038/oncsis.2014.42.
Tadesse S, Kidane D, Guller S, Luo T, Norwitz NG, Arcuri F, Toti P, Norwitz ER. In vivo and in vitro evidence for placental DNA damage in preeclampsia. PLOS ONE Jan 2014;9(1):e86791. PMID: 24466242. DOI: 10.1371/journal.pone.0086791
 Kidane D, Chae WJ, Czochor J, Eckert KA, Glazer PM, Bothwell AL, Sweasy JB. Interplay between DNA repair and inflammation, and the link to Cancer. Critical Reviews in Biochemistry and Molecular Biology Mar-Apr 2014;49(2):116-39. PMID 24410153. DOI: 10.3109/10409238.2013.875514
Senejani AG, Liu Y, Kidane D, Maher SE, Zeiss CJ, Park HJ, Kashgarian M, McNiff JM, Zelterman D, Bothwell AL, Sweasy JB. Mutation of POLB causes lupus in mice. Cell Reports Jan 2014;6(1):1-8. PMID: 24388753. DOI: 10.1016/j.celrep.2013.12.017
Galick HA, Kathe S, Liu M, Robey-Bond S, Kidane D, Wallace SS, Sweasy JB. Germ-line variant of human NTH1 DNA glycosylase induces genomic instability and cellular transformation. Proceedings of the National Academy of Sciences of the United States of America Aug 2013;110(35):14314-9. PMID: 23940330. DOI: 10.1073/pnas.1306752110
Kidane D, Sakkas D, Nottoli T, McGrath J, Sweasy JB. Kinesin 5B (KIF5B) is required for progression through female meiosis and proper chromosomal segregation in mitotic cells. PLOS ONE Apr 2013;8(4):e58585. PMID: 23560038. DOI: 10.1371/journal.pone.0058585
Kidane D, Ayora S, Sweasy JB, Graumann PL, Alonso JC. The cell pole: the site of cross talk between the DNA uptake and genetic recombination machinery. Critical Reviews in Biochemistry and Molecular Biology Nov-Dec 2012;47(6):531-55. PMID: 23046409. DOI: 10.3109/10409238.2012.729562
Kidane D, Sweasy JB. Tipping the balance the powerhouse of Cell to "protect" colorectal cancer. PLOS Genetics Jun 2012;8(6):e1002758. PMID: 22685422. DOI: 10.1371/journal.pgen.1002758
Kidane D, Dala S, Keh A, Liu Y, Zelterman D, Sweasy JB. DNA polymerase beta is critical for genomic stability of sperm cells. DNA Repair Apr 2011;10(4):390-7. PMID: 21333614. DOI: 10.1016/j.dnarep.2011.01.003
Kidane D, Jonason AS, Gorton TS, Mihaylov I, Pan J, Keeney S, de Rooij DG, Ashley T, Keh A, Liu Y, Banerjee U, Zelterman D, Sweasy JB. DNA Polymerase beta is critical for mouse meiotic synapsis. EMBO Journal Jan 2010;29(2):410-23. PMID: 20019666. DOI: 10.1038/emboj.2009.357
Kidane D, Carrasco B, Manfredi C, Rothmaier K, Ayora S, Tadesse S, Alonso JC, Graumann PL. Evidence for different pathways during horizontal gene transfer in competent Bacillus subtilis cells. PLOS Genetics Sep 2009;5(9):e1000630. PMID: 19730681. DOI: 10.1371/journal.pgen.1000630
Mascarenhas J, Sanchez H, Tadesse S, Kidane D, Krishnamurthy M, Alonso JC, Graumann PL. Bacillus subtilis SbcC protein plays an important role in DNA inter-strand cross-link repair. BMC Molecular Biology Jun 2006;7-20. PMID: 16780573. DOI: 10.1186/1471-2199-7-20
Genetu A, Gadisa E, Aseffa A, Barr S, Lakew M, Jirata D, Kuru T, Kidane D, Hunegnaw M, Gedamu L. Leishmania aethiopica: Strain identification and characterization of superoxide dismutase-B genes. Experimental Parasitology Aug 2006;113(4):221-226. PMID: 16516199. DOI: 10.1016/j.exppara.2006.01.010
Sanchez H, Kidane D, Castillo Cozar M, Graumann PL, Alonso JC. Recruitment of Bacillus subtilis RecN to DNA double-strand breaks in the absence of DNA end processing. Journal of Bacteriology Jan 2006;188(2):353-360. PMID: 16385024. DOI: 10.1128/JB.188.2.353-360.2006
Kidane D, Graumann PL. Dynamic formation of RecA filaments at DNA double strand repair centers in live cells. Journal of Cell Biology Aug 2005;170(3):357-366. PMID: 16061691. DOI: 10.1083/jcb.200412090
Sanchez H, Kidane D, Reed P, Curtis FA, Castillo Cozar M, Graumann PL, Sharples GJ, Alonso JC. The RuvAB branch migration translocase and RecU Holliday junction resolvase are required for double-stranded DNA break repair in Bacillus subtilis. Genetics Nov 2005;171(3):873-883. PMID: 16020779. DOI: 10.1534/genetics.105.045906
Kidane D, Graumann PL. Intracellular protein and DNA dynamics in competent Bacillus subtilis cells. Cell Jul 2005;122(1):73-84. PMID: 16009134. DOI: 10.1016/j.cell.2005.04.036
Kidane D, Sanchez H, Alonso JC, Graumann PL. Visualization of DNA double-strand break repair in live bacteria reveals dynamic recruitment of Bacillus subtilis RecF, RecO and RecN proteins to distinct sites on the nucleoids. Molecular Microbiology Jun 2004;52(6):1627-1639. PMID: 15186413. DOI: 10.1111/j.1365-2958.2004.04102.x
Habte A, Geletu M, Olobo JO, Kidane D, Negesse Y, Yassin MA, Kifle A, Abate G, Harboe M,  Aseffa A. T cell mediated immune responses in patients with tuberculosis lymphadenitis from Butajira, southern Ethiopia. Ethiopian Medical Journal Apr 2004;(42) Suppl 1:29-35. PMID: 1689501
Abebe M, Lakew M, Kidane D, Lakew Z, Kiros K, Harboe M. Female genital tuberculosis in Ethiopia. Ethiopian Medical Journal Apr 42 Suppl 1:37-41. PMID: 16895018.
Tadesse S, Woldemeskel M, Molla B, Tibbo M, Kidane D, Medhin G, Britton S. Avian mycobacteriosis in domestic chickens from selected agro-climatic regions of Ethiopia. Journal of Applied Research in Veterinary Medicine 2003;2(1):17-25.
Beyene D, Aseffa A, Harboe M, Kidane D, Macdonald M, Klatser PR, Bjune GA, Smith WC. Nasal carriage of Mycobacterium leprae DNA in healthy individuals in Lega Robi village, Ethiopia. Epidemiology and Infection Oct 2003;131(2):841-848. PMID: 14596524. DOI: 10.1017/s0950268803001079
Yassin MA, Olobo JO, Kidane D, Negesse Y, Shimeles E, Tadesse A, Demissie A, Britton S, Harboe M, Aseffa A, Abate G. Diagnosis of tuberculosis lymphadenitis in Butajira, rural Ethiopia. Scandinavian Journal of Infectious Diseases 2003;35(4):240-243. PMID: 12839151. DOI: 10.1080/00365540310004027
Kidane D, Olobo JO, Habte A, Negesse Y, Aseffa A, Abate G, Yassin MA, Bereda K, Harboe M. Identification of the causative organism of tuberculosis lymphadenitis in Ethiopia by PCR. Journal of Clinical Microbiology Nov 2002;40(11):4230-4234. PMID: 12409403. DOI: 10.1128/JCM.40.11.4230-4234.2002
 Book Chapters
Shengyuan Zhao, Tadesse S, and Kidane D*. Significance of Base Excision Repair to human health. Int Rev Cell Mol Biol. 2021; 364:163-193. PMID: 34507783 DOI: 10.1016/bs.ircmb.2021.05.002