See all Profiles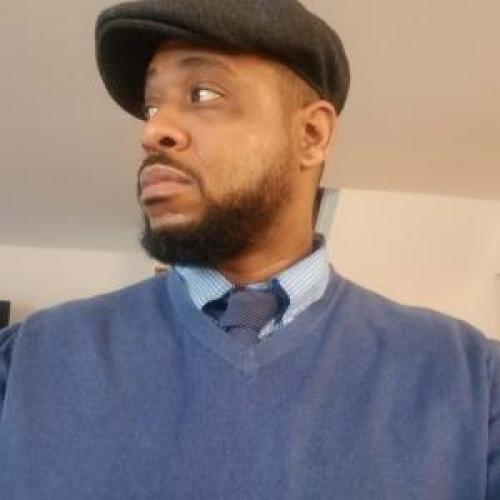 Faculty
Faculty
David F. Green
(He/Him)
Associate Professor
School/College
College of Arts & Sciences
Biography
David F. Green Jr.  is  an Associate Professor of English and the Director of First-Year Writing at Howard University. He remains committed to serving historically underrepresented students and theorizing rhetoric and composition practice at minority serving institutions. Dr. Green is the editor of Visions and Cyphers, a writing studies textbook composed with an emphasis on culture and language research in composition studies.  Additionally, He has published several articles on race, writing, assessment, and critical language use, in such journals as College English, Understanding and Dismantling Privilege, Changing English, and Compositions Studies. He served as program chair for the 2018 Teaching Composition and Rhetoric at HBCUs symposium and is an advocate for rhetoric and composition research at HBCUs. His research interests include Hip Hop, African American rhetoric, Writing Assessment, Writing Program Administration, Critical Pedagogy, and Emancipatory Composition studies. He is currently the Secretary of the Conference on College Composition and Communication (CCCC) and serves on the board for the NCTE/CCCCs affiliated Black Caucus.
Education
English
Ph.D
Penn State University
Spring 2011

English
BA
Hampton University
2004

Expertise
African American Rhetoric, Hip Hop, and Critical Pedagogy
 As a scholar I am deeply invested in culture, language, and the performance of self in writing. I see those areas, as well as related interests in race, teaching, and literacy as central to the types of research I do and questions I engage. More specifically, these interests allow me to explore some of the social and educational inequalities that I witnessed or experienced growing up in Newark NJ and teaching in Newark and Norfolk, VA public school systems. I was raised by two teachers and I am very sensitive to the way education provides or denies access to important social and personal needs. Pedagogy---the leading of minds whether public, alternative, or academic to a critical understanding of their surroundings---is a core element of modern communication practices and of various modes of  identification or persuasion. For me, pedagogy is inherently rhetorical often influencing my intellectual journey and personal interests in ways that shape my scholarly identity. In addition to pedagogy, African American expressive culture represents another area of serious interest. In particular, legacies of bondage and asymmetrical social relations provide customs, rituals, and belief systems that guide my reading of social phenomena and the way I navigate the public sphere. It is this base that guides and most directly shapes my identity as a scholar, colleague, and citizen. This research derives from a distinctive understanding of African American Rhetoric. Rhetoric, within the popular imagination maintains a troublesome position as the use of language to deflect or deceive, but as an intellectual practice rhetoric frames the study of the way people use symbols, language, and images to shape or inform thinking on a particular topic. African American rhetoric examines the artistic and political forms of communication that African descendants within the New World developed to both form and critique community. My interests lay mainly within the way African American people use language strategically to convey complex ideas about a people and their struggle. For that reason, I examine music, oratory, politics, literature, and social practices to gain a deeper understanding of the way a people express and define themselves. Under this umbrella I take a deep interest in the artistic forms, social practices, and intellectual homages that exist within Hip Hop. I view Hip Hop as a contemporary expression of African American literature and a powerful practice for examining contemporary Black culture.