See all Profiles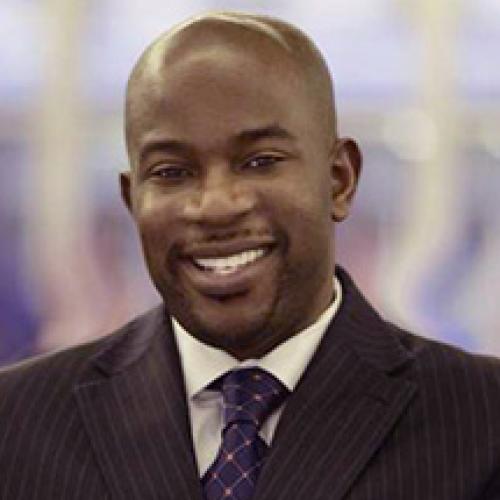 Faculty
Faculty
Darin Johnson
Additional Positions
Biography
Biography
Darin Johnson is Professor of Law at Howard University School of Law. Professor Johnson received his B.A. from Yale College and his J.D. from Harvard Law School. At Harvard Law School, he was an Executive Editor of the Harvard Civil Rights-Civil Liberties Law Review.
Professor Johnson was recognized by Harvard Law School with the Irving R. Kaufman Public Interest Fellowship, the Samuel Heyman Fellowship for Public Service, and the Wasserstein Public Interest Fellowship. During his final year of law school, Professor Johnson was selected as one of only two commissioned U.S. Army officers to serve in the Secretary of the Army General Counsel's Office Honors Program at the Pentagon. He served as an Assistant General Counsel to the Army Secretariat for four years, completing his military service with the rank of Captain.
After leaving the Pentagon, Professor Johnson continued to practice law as an attorney-adviser in the U.S. Department of State's Office of the Legal Adviser. During his tenure with the Office of the Legal Adviser, Professor Johnson advised on a wide range of international legal issues, involving Middle Eastern, political-military, United Nations, and other multilateral matters. He served as the Legal Adviser to the U.S. Embassy in Baghdad, Iraq. Professor Johnson also served on detail to the Office of the White House Counsel during the Obama Administration. Professor Johnson served as Chief of Staff in the Office of the Special Coordinator for Middle East Transitions, which was tasked with coordinating U.S. assistance to politically transitioning countries in the Middle East and North Africa following the Arab Spring uprisings. He received several Departmental honors for his work.
Professor Johnson's research interests include constitutional reform, reconciliation, and the rule of law in post-conflict and transitioning states.  Professor Johnson provides legal advice on matters of public international law and the rule of law in post-conflict, transitioning, and developing countries through his work as a Senior Peace Fellow with the Public International Law and Policy Group and his consultancy work.
Professor Johnson has also served as a visiting professor, an adjunct professor and a lecturer at George Washington University Law School, Georgetown University Law Center, the Texas Southern University Thurgood Marshall School of Law, and the American University Washington College of Law. He has been honored to receive the Faculty Member of the Year Award from the Howard Law Student Bar Association. Professor Johnson is a member of the Illinois Bar, the D.C. Bar and the U.S. Supreme Court Bar.
Publications
Articles:
"Beyond Constituent Assemblies and Referenda: Assessing the Legitimacy of the Arab Spring Constitutions in Egypt and Tunisia" 50 Wake Forest Law Review 1007 (2015)
"Conflict Constitution-Making in Libya and Yemen," 39 University of Pennsylvania Journal of International Law 293 (2018)
"The Problem of the Terror Non-State: Rescuing International Law from ISIS and Boko Haram," 84 Brooklyn Law Review 475 (2019)
"Russian Election Interference and Race-Baiting" 8 Columbia Journal of Race and Law 191 (2019)
"Homegrown and Global: The Rising Terror Movement," 58 Houston Law Review 1059 (2021)
"Revolution, Peace and Justice in Sudan" 43 University of Pennsylvania Journal of International Law 187 (2022)
Book Chapters:
"Constitution-Making in Post-Conflict and Transitioning States: Reflections From the Arab Spring" in Handbook on Post-Conflict State Building (Elgar Publishing, 2020)
"Iraq: After Sadaam and ISIS" in Handbook on Post-Conflict State Building (Elgar Publishing, 2020)
 
Essays:
"Pauli Murray: Human Rights Visionary and Trailblazer" 117 AJIL UNBOUND 37 (2023)
"Praxis of Peace" 54 Case W. Res. J. Int'l L. 281 (2022)
"The Chokehold on Education" 3 Howard Human & Civil Rights Law Review 45 (2020)
"How U.S. Civil Rights Leaders' Human Rights Agenda Shaped the United Nations" 1 Howard Human and Civil Rights Law Review 33 (2017)  
"2007 in Iraq: The Surge and Benchmarks: A New Way Forward?" 24 American University International Law Review 249 (2009)