See all Profiles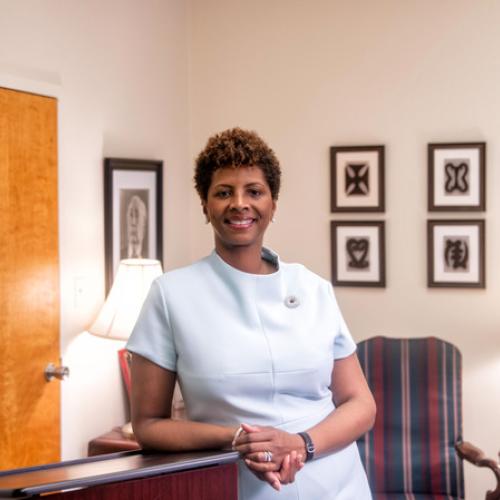 Staff
Staff
Dana A. Williams
Dean
Additional Positions
Professor of African American Literature

English
Biography
A specialist in contemporary African American Literature, Dana A. Williams earned her B.A. in English from Grambling State University in Grambling, LA in 1993, her M.A. in 1995 from Howard University, and her Ph.D. in African American Literature from Howard University in 1998. As a recipient of the Ford Foundation Postdoctoral Scholar award in 1999, she was a visiting research fellow at Northwestern University in Evanston, IL. Before returning to Howard University as a faculty member in 2003, Dr. Williams taught at Louisiana State University in Baton Rouge for four years. In 2008-09, she was a faculty fellow at the John Hope Franklin Humanities Institute at Duke University, and she assumed the chairmanship of the Department in 2009, serving three terms in that position. In 2019, she was appointed as interim dean of the Graduate School and then named permanent dean in 2021. 
In addition to an annotated bibliography, Contemporary African American Female Playwrights: An Annotated Bibliography(Greenwood 1999), Dean Williams has co-edited August Wilson and Black Aesthetics (Palgrave-MacMillan, 2004) with Sandra G. Shannon, edited African American Humor, Irony, and Satire: Ishmael Reed, Satirically Speaking (Cambridge Scholars, 2007), Conversations with Leon Forrest (UP of Mississippi, 2007), and Contemporary African American Fiction: New Critical Essays (Ohio State UP, 2009). She is also the author of the first and only book-length study on Leon Forrest, In the Light of Likeness—Transformed: The Literary Art of Leon Forrest (Ohio State UP, 2005). In addition to her book projects, Dean Williams has published articles in CLA Journal, African American Review, Bulletin of Bibliography, Langston Hughes Review, Zora Neale Hurston Forum, PMLA, Studies in American Fiction, International Journal of the Humanities, and Profession. She has published extensively in the field of African American literature and is currently completing a book on Toni Morrison's editorship at Random House Publishing Company. 
In addition to her work at Howard, Williams has served as president of the College Language Association (the oldest and largest professional organization in the US for faculty of color who teach languages and literatures) and has been elected as 2nd Vice President of the Modern Languages Association. She also serves as president of the Toni Morrison Society and as board member of the Furious Flower Poetry Center, the Hurston/Wright Foundation, the Center for Black Literature, and the American Society of Learned Societies. In 2016, she was nominated by President Barack Obama to serve as a member of the National Humanities Council.
Education
BA
English
Grambling State University
1993

MA
English (African American Drama)
Howard University
1995

PhD
English African American Literature
Howard University
1998

Expertise
African American Literature