See all Profiles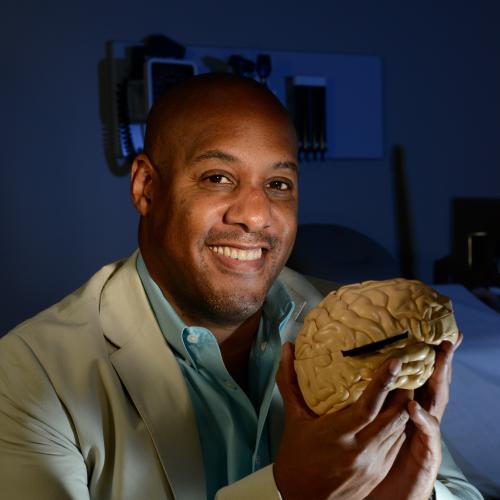 Faculty
Faculty
Byron D. Ford, PhD
(He/him/his)
Associate Dean of Research & Graduate Studies, Professor & Chair, Anatomy
Biography
Dr. Byron Ford is the M. Wharton Young Professor and Chair of the Department of Anatomy and Associate Dean of Research and Graduate Studies at the Howard University College of Medicine. From 2015-2022 he served as Professor and Associate Dean of Medical Education at the University of California-Riverside School of Medicine. Dr. Ford's research has studied the cellular and molecular mechanisms involved in the stroke for more than 20 years. He has been the recipient of National Institutes of Health (NIH) and Department of Defense grants to investigate the neuroprotective roles of neuregulin-1 (NRG-1) in stroke, traumatic brain injury (TBI), cerebral malaria and as a countermeasure for nerve agent exposure. Dr. Ford's work has yielded multiple U.S. and international patents and is leading the development of new therapies for stroke and neuroinflammatory disorders. Previously, Dr. Ford was Professor and Vice Chairman in the Department of Neurobiology at the Morehouse School of Medicine (2001-2015). Dr. Ford received his B.S. in Biology from Grambling State University and Ph.D. in Neurophysiology from Meharry Medical College. He completed postdoctoral studies at Harvard Medical School and the NIH. Dr. Ford was a member of the National Institute for Neurological Disorders and Stroke (NINDS) Advisory Council at NIH from 2012-2016.
Education
BS, Biology

Grambling State University
1989

PhD, Physiology (Neurophysiology)

Meharry Medical College
1995

Postdoctoral Fellow, Neurobiology

Harvard Medical School
1995-1998

Postdoctoral Fellow, Neurobiology

National Institute of Neurological Disorders and Stroke, NIH
1998-2000

Research
Specialty
Neuroscience/Stroke
Group Information
My laboratory studies the cellular and molecular mechanisms involved in the pathophysiology of stroke and acute brain injuries. We investigate the neuroprotective roles of neuregulin-1 (NRG-1) and other compounds in stroke and other acute neuroinflammatory disorders. My group utilizes in vivo and in vitro models as well as high-throughput tools to scan the genome, transcriptome, proteome and metabolome to understand mechanisms associated with neuronal pathology and neuroinflammation following acute brain injuries. I have published extensively on the neuroprotective roles of NRG-1 in acute brain injury models, including rodent and non-human primate cerebral ischemia models and a novel model of nerve agent exposure. We are specifically interested in the role of NRG-1 in regulating the immune response and the activity of glial cells following brain injury. NRG-1 is currently in human clinical trials and showed significant efficacy in a phase II study of heart failure patients. My work has yielded nine full U.S. patents, two Canadian patents and one each from China and Australia. The results of these studies have therapeutic implications for other acute neuroinflammatory disorders include traumatic brain injury, nerve agent toxicity, cerebral malaria and sepsis.