See all Profiles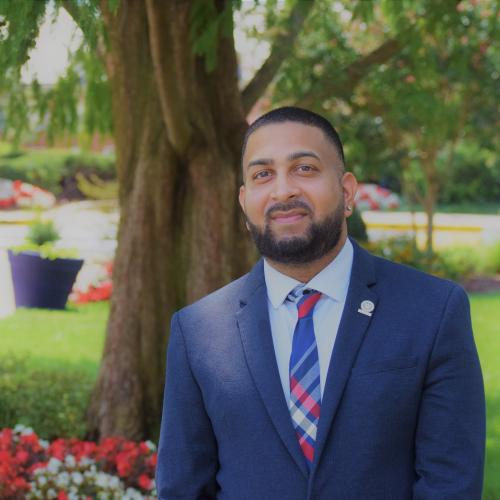 Staff
Staff
Bilal Badruddin, Ph.D.
(He/Him/His)
Director of Alumni Relations
Department/Office
Development & Alumni Relations
Additional Positions
Department of Alumni Relations
Biography
Bilal Badruddin is an experienced higher education professional, with an understanding of mission-driven work, both on- and off-campus.  
Born and raised in New Jersey, Bilal is the son of immigrants.  After graduating high school, Bilal attended Temple University, where he studied Advertising Research.  During his time in college, Bilal helped charter Delta Epsilon Psi Fraternity, Inc., and was involved in various aspects of campus life including Residential Life and the Temple University Bhangra dance team.
After receiving his Bachelor's degree, Bilal went on to pursue a Masters of Education in Higher Education Administration from Loyola University-Chicago.  During his graduate studies, Bilal held two assistantships at Northeastern Illinois University in Chicago, Illinois, advising all Greek-letter organizations and hearing student conduct cases. 
Upon graduating with his Master's degree, Bilal worked at Eastern Washington University as an Area Coordinator, and advised the National Pan-Hellenic Council and Diversified Greek Council, before transitioning to Colgate University.  During his time at Colgate, Bilal held serval positions including Assistant Director of Residential Programs, Director of Fraternity & Sorority Affairs, and Dean of Residential Programs. 
Bilal then began his doctoral studies at Howard University, as a member of the inaugural cohort of the Higher Education Leadership & Policy Studies program.  While pursuing his PhD, Bilal began working as the Senior Special Assistant to the Senior Vice President for Development & Alumni Relations.  In this capacity, Bilal has worked closely with nearly every aspect of the division.  In October of 2022, Bilal was asked to serve as the Interim Director of Alumni Relations, where he been working closely with the Howard University Alumni Association to engage alumni of all ages, domestically and internationally.  In April 2023, Bilal was selected as the Director of Alumni Relations.
Outside of his work with the University, Dr. Badruddin is actively involved in the fraternity and sorority space.  He is the Chair for the Board of Directors of Delta Epsilon Psi Fraternity, Inc., the Past-Chair of the National APIDA Panhellenic Association, a Virtual Scholar for the Timothy J. Piazza Center for Fraternity & Sorority Research and Reform at Penn State University, and the Assistant Editor for the Journal of Sorority & Fraternity Life Research & Practice.  
Education
Advertising Research
BA
Temple University
2011

Higher Education Administration
MEd
Loyola University - Chicago
2013

Higher Education Leadership & Policy Studies
PhD
Howard University
2023

Academics
ELPS 603: The College & University Presidency