See all Profiles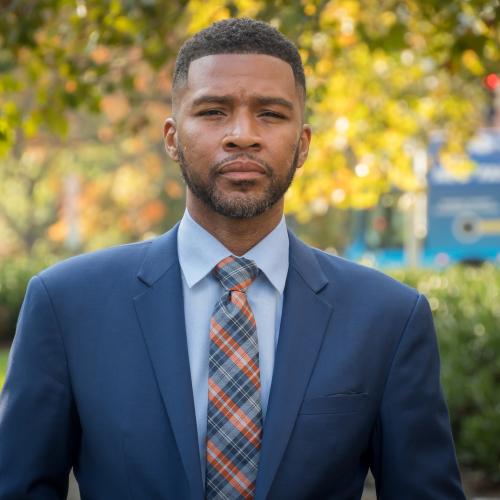 Staff
Staff
Andre Lane, Jr.
Assistant Dean of Innovation & Administration
Department/Office
Office of the Dean, School of Business
Biography
Andre Lane Jr. is Assistant Dean of Innovation & Administration for the School of Business.  There he leads the continuous improvement efforts to assure the effective and efficient deployment of technology resources and process optimization, while cultivating a culture of technology literacy and operational excellence. He also coordinates the identification, analysis, and prioritization of new initiatives and explore enhancement of learning through curricular innovation and program delivery.
Before joining the School of Business, Andre was a Senior Program Director in the Office of Research, where he worked to develop, implement, and monitor systems managing all grant spending within the university. In addition, he collaborated directly with Deans and Associate Deans for Research/Academic Affairs with on-going assessments of contract and grant strategic plans for each of the 14 Colleges and Schools.  Prior to this appointment, he served as the Director of the Hayes Senior Wellness Center, one of the six DC Government-funded centered in the District. In this role, he grew the center from a three-person team to a six-person staff, with over 35 consultants, while more than doubling the grant award. He also cultivated key relationships with other organizations, expanded program offerings within the center, as well as local recreations centers across the city, resulting in over 100 in-person fitness classes for seniors each week. 
He excels in creating and implementing strategic plans to optimize efficiency, enhance operations, and boost overall performance results. He is a proven program director with expertise in project management, sales, and operations leadership.
Andre is a graduate of the University Maryland, where he studied Kinesiology and Sports Management. He then went on to obtain an MBA in Finance from Trinity College (now Trinity Washington University). He holds a Project Management Professional (PMP) Certification from Project Management Institute.
Education
Kinesiology (Sports Marketing)
B.S.
University of Maryland, College Park
2007

Finance
M.B.A.
Trinity Washington University
2011

Accomplishments
Project Management Professional (2020)
Ethics Committee Member, United Medical Center
Board Member, FAIR Girls (Anti-Human-Trafficking Organization)