See all Profiles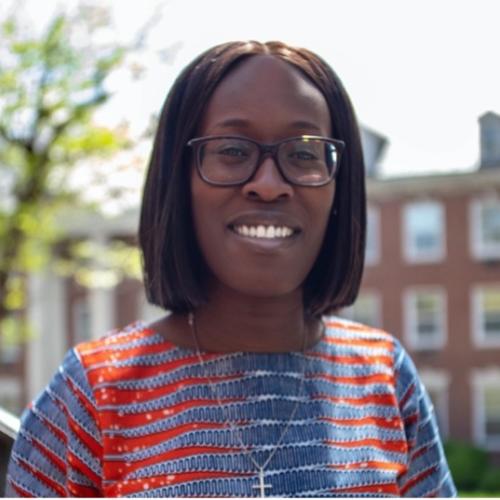 Faculty
Faculty
Amy Yeboah Quarkume
(She/Her)
Associate Professor
School/College
College of Arts & Sciences
Graduate School
Additional Positions
Graduate Director

Center for Applied Data Science and Analytics

Director of Student Engagement

Center for Women, Gender and Global Leadership
Biography
Dr. Amy Yeboah Quarkume, affectionally known as Dr. A, is a daughter of Africa, scholar, filmmaker, data scientist and Associate Professor of Africana Studies in the Department of Afro-American Studies at Howard University. She holds a Ph.D. in African American Studies, two Masters of Arts in Sociology and African American Studies, and a forthcoming Master of Science in Data Analytics and Computational Social Science from the University of Massachusetts and a Certificate of Data Science from Harvard Extension School and MIT. Dr. Quarkume is an Andrew Mellon New Direction Fellow, Mellon Just Futures Initiative invited Social Justice Consortium partner, Brown University Born-Digital Scholarly Publishing scholar, National Center for Atmospheric Research Innovator Fellow, and a White House Initiative HBCU All-Star Campus Mentor. 
Her work as a data scientist, centers around AI Bias, data inequality and environmental justice. Currently, she employs an Africana Studies framework to examine the intersections of race and technology. Dr. A is presently, the Director of Graduate Studies for the Master's Program in Applied Data Science in the Center for Applied Data Science and Analytics (CADSA) advancing Howard University's first major effort in becoming a hub for data science social justice research and training for the next generation of data scientists. Also, the developer of the Hello Black World curriculum, designed for Africana Studies majors, minors and friends in the humanities and social sciences who want to explore and develop data and computer science competencies centered around the presence of African contributions and the imagination. Co-Pi for the forthcoming Race and Tech lab in Howard's Graduate School.  
As a filmmaker, Dr. A has produced two documentaries. (Re)Inscribing Meaning documents how closing the excellence gap for Black youth in the face of disruption begins at home with the Black family. Her most recent work, Goodbye to City Schools, focuses on the impact the closing of schools has on staff, students, families, and community members in the city of Philadelphia. Presently, as the Associate Director of Student Engagement for the Howard University Center for Women, Gender and Global Leadership she encourages students to thrive for excellence for Black women and Black feminist consciousness, activism, and global leadership. 
She has published in the Journal of Women, Gender, and Families of Color; Mosaic Magazine; Black Scholar; CLA Journal and is currently working on her second book project Data Pollution and Savage Algorithms. She has also contributed to and been an invited guest on BET News, PBS NewsHour, Direct TV, American Radio Works, Al Jazeera America's The Stream, Philadelphia Community Access Media, Roland Martin TV One News Show, and Mother Jones.
Education
Data Science
Cert.
Harvard University Extension School
2023

Data Analytics and Computational Social Science
M.S.
University of Massachusetts Amherst
2023

African American Studies
Ph.D.
Temple University
2013

African American Studies
M.A
Temple University
2011

Sociology
M.A.
Temple University
2010

Academics
AFRO 186: Black Women in America II
This course studies the historical and contemporary experiences of Africana Women through the major concepts and methods of the stand-alone academic field, discipline, and meta-discipline of Africana Studies. While the course primarily focuses on Black women in America, the readings include diverse experiences, perspectives, and scholarships of women from the African continent, the Caribbean, and North and South American communities. Building off of historically African centered experiences, the readings will provide a social-historical framework for the course and will draw from many disciplines including literature, psychology, sociology, science, as well as art. A focus will be placed upon contemporary issues such as the Politics of Health and Motherhood; Art and Culture; Media and Representation; Education and STEM; Wage and Equity; Politics and Power and Crime and Punishment. In examining the experience of Black Women in America students will also capture and reflect upon the story of Black womanhood over the years and critically engage in museums, artifacts, and archives that connect to historical narratives of Black women in America.
AFRO 120: Education in Black America II
This course provides students with an introduction to Black Education in America with a focus on contemporary issues. Organized around questions about teaching, learning, and schooling people of African descent, a critical eye is placed current social structural arguments in education policy for people of African descent. In examining the cultural and structural foundations of education, students will also reflect upon and critique their own educational experiences and articulate their own beliefs and values about teaching, learning, and schooling, and critically engage in museums, artifacts and archives that connect to historical narratives of education in America. 
AFRO 121: Black Experience in Film
This course studies the role and function of still and motion pictures within the lived experiences of people of African descent, from behind, in front, and on the audience side of technology (scroll, writing utensil, camera, etc.…). The course will provide a theoretical framework that will draw from many disciplines including literature, psychology, sociology, and history as well as art. The still and motion pictures that will be examined will provide a practical framework for the course from 1900 – the present. In examining the Black experience through film, students will also (1) watch films about the Black experience, (2) surveys the history, theories, debates, and controversies that have characterized African American cinema, and (3) create an original film storyboard.
Accomplishments
Associate in the Institute for Quantitative Social Science (IQSS) at Harvard University
As a Harvard University Associate in the Institute for Quantitative Social Science (IQSS) at Harvard I will collaborate with Professor Latanya Sweeney developing curriculum for the Data Science for Social Justice program 
Andrew Mellon New Direction Scholar
New Directions Fellowships assist faculty members in the humanities and humanistic social sciences who seek to acquire systematic training outside their own areas of special interest.
DC Humanities Vision Grant Scholar
Humanities Vision Grant provides financial and capacity building resources to community organizations interested in creating innovative interpretations of humanities scholarship for public audiences. The grants are driven by the proposed final product; each grant will produce an educational resource that will be added to a publicly accessible, online archive.
National Center for Atmospheric Research (NCAR) Early Career Faculty Innovator Scholar
The Early Career Faculty Innovator Program is a new funding opportunity for early career faculty in the social sciences and STEM outside of NCAR's core expertise to co-develop interdisciplinary research projects in partnership with scientists and engineers at the National Center for Atmospheric Research (NCAR) in Boulder, Colorado.
Bezos Earth Fund - Environmental Justice Data Collaborative Scholar
Bezos Earth Fund Announced $443 Million in Grants to Advance Environmental Justice, Conserve and Restore Nature, and Improve Monitoring and Accountability.
UChicago and Data.org Capacity Accelerator Network Partner
Capacity Accelerator Network (CAN) Democratizing data skills and investing in social impact organizations' capacity to be data-driven will lead to transformative change. The Capacity Accelerator Network will work to increase skills and support organizations, enabling them to unlock the power of data to meet their missions.
Related Articles
Yeboah, Amy. "Why the West Couldn't Hear Beale Street: Baldwin's World-sense of Female Sexuality." Humanities, no.8, 4 (2019)
While scholars have noted James Baldwin's revisionary and transformative literary approach to social constructions of race, class, gender, and crime, there has been very little conversation in that vein regarding If Beale Street Could Talk (1974). Upon its publication, many critics issued negative reviews of the novel, failing to recognize how Baldwin's view of female sexuality both embraced notions of the body and constructs from an African-centered world-sense. Using a range of theoretical resources from Africana Studies, this paper analyzes how moving beyond Western frameworks regarding knowledge, sexual discourse, and behavior offers a new interpretation of Baldwin's aims that reclaims and re-imagines Black sexual politics.
Yeboah, Amy. "Reconceptualizing Black Students Going Abroad: Heritage Experiences in Theory and Practice." International Journal of Multidisciplinary Perspectives in Higher Education, vol 4, issue. 1 (2019).
The lack of participation in study abroad programs by Black students is a topicof persistent concern yetincreasing opportunities has not yielded significant results. A closer look at study abroad programs identifies a gap in program offerings and experiences that Black students might actually desire. Reconceptualizing what Black people value from travel experiences and addressing students' primary obstacles going abroad—the financial burden, fear of anticipated racism, and finding programs of interest (Gasman, 2013)—led Howard University to offer a heritage program approach. This article looks at how the Young AfricanA Leadership Initiative (YAALI) fellowship closes the cultural gap that exists for Black students in traditional study abroad programs.
Yeboah, Amy. "400 Years after the Coming: Daniel Black's The Coming: A Novel as a Guide for "we, a People" to Return to Africa." CLA Journal, 61, no. 3 (2018): 223-37.
Yeboah, Amy O. "Reflections on the Second Wave of "Make America Great Again": A Glimpse from a Historically Black College and University." Women, Gender, and Families of Color, no. 1 (2018): 136-43.
Yeboah, Amy. "Shauna Morgan Entrevista." Mosaic Literary Magazine and MNS Projek, translated into Brazilian-Portuguese, August 26, 2019.
Yeboah, Amy. "Shauna Morgan Interview: Poems That Travel Across and Through the Diaspora." Mosaic Literary Magazine, September 18, 2018.