See all Profiles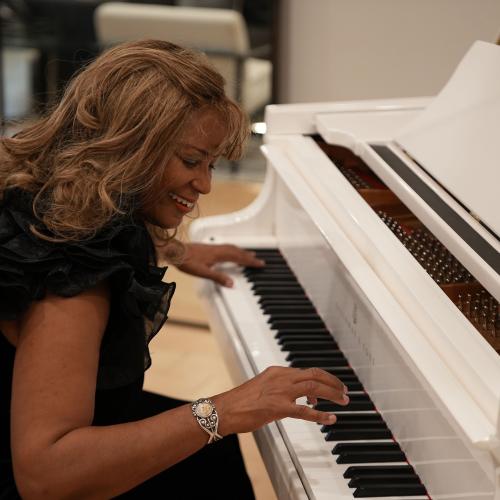 Faculty
Faculty
Karen Walwyn, DMA
Associate Professor – Tenured Piano Faculty Member
Biography
Piano Faculty
Childers Hall, Room 3020
(202) 806-7092
kwalwyn@howard.edu
Ms. Karen Walwyn, "warmly expressive Karen Walwyn", stated by critic Joshua Barone of the New York Times, remarked on a performance with the Nashville Symphony Orchestra, under the baton of Maestro Giancarlo Guerrero, of the Concerto in One Movement by Florence Price, as "an infectious pleasure".
With her recent release of solo album entitled Florence B. Price, she received numerous reviews including: This is a marvelous release and one that I'll keep on my active listening stack for some time to come. James Harrington.
Walwyn, a Concert Pianist, Composer, Albany Recording Artist, Piano Pedagogue and a Florence Price scholar, is the first female African American pianist/ composer to receive the International Steinway Artist Award.
Dr. Walwyn opens her fall 2022 season with her invitation to perform  as a guest artist with the Nashville Symphony Orchestra followed by solo concerts at Georgetown University and later this semester at Temple University.  Playing with symphony orchestras as well as solo performances, Dr. Walwyn as well, Dr. Walwyn was commissioned to write works for Organist Pamela Ruiter- Feenstra for the International Organ Festival 2023. As a Florence Price Scholar, Dr. Walwyn was invited to give a Florence Price presentation with the NAACP this fall.
This fall 2022 semester begins with the celebration of a new Steinway Model D piano which has been named the Rees piano which was gifted to the Department of Music by concert pianist Ms. Leanne Rees facilitated by Dr. Walwyn which is now housed in Childers Recital Hall. 
A native of New York, Concert Pianist Karen Walwyn made her New York solo piano debut at Merkin Hall as a follow-up to her two-album series for Albany Records entitled Dark Fires, offering premiere recordings of works by American composers of African descent. Bill Faucett from The American Record Guide said " Walwyn's pianism is superb", and Peter Burwasser from Fanfare Magazine said "Walwyn gets through this technically demanding program with aplomb. Her rhythmic nimbleness is especially notable."
As a Champion of Florence Price, Walwyn began her journey with Florence Price when she was invited to perform and record the world premiere of the  Concerto in One Movement by Florence Price with the New Black Music Repertory Ensemble by the Center of Black Music Research.
Walwyn's Florence Price solo piano music which includes a number of world premieres, was released on the birthday of Price on April 9, 2022. Just released, as well, is the world premiere of Price's authentic version of the Concerto in One Movement   performed with the Arkansas Symphony Orchestra.  On April 15, 2022, Walwyn was a guest artist on PBS: Now Hear This  with Scott Yoo: "Florence Price and the American Migration".  Walwyn also appeared in the Emmy nominated The Caged Bird by James Greeson. She has been featured on NPR with John Banther in addition to numerous interviews and lectures on the life and music by Florence Price.  Of a recent recital at Florida International University, critic Laurence Budman wrote Walwyn provides superb advocacy for Florence Price's music.
 As a Composer, she received the Global Award: Gold Medal -Award of Excellence for her recording of her composition entitled Reflections on 9/11 . Robert Schulslaper of Fanfare Magazine wrote: "Imaginatively conceived and executed, it both disturbingly transposes the catastrophe into appropriately cataclysmic sound and artistically suggests the aftermath's lingering sense of numbing devastation."  A Mellon Faculty Fellow, Walwyn continuously receives numerous commissions for solo, chamber and orchestral works.
Dr. Walwyn, a faculty member at Howard University, is in constant concert demand nationally and internationally for both her repertoire from Franz Liszt to Florence Price, as well as for performances of her own works. She was a student of Dr. James R. Floyd, Dr. Arthur Greene, Ms. Rosalie Gregory, and Ms. Susan Starr. 
Education
Piano Performance
DMA
University of Michigan


Piano Performance
BM, MM
University of Miami


Expertise
An International Steinway Artist, Concert Pianist, Composer, Albany Records Recording Artist, Florence Price Scholar and Piano Pedagogue
Accomplishments
International Steinway Artist
Dr. Walwyn is the first African American female pianist and composer to win the International Steinway Artist Award.