See all Profiles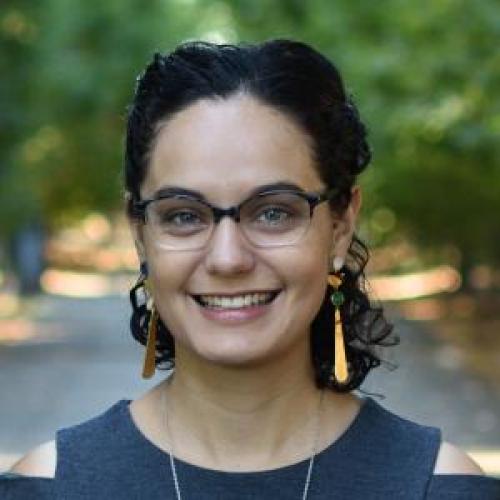 Faculty
Faculty
Jeseth Delgado Vela
(She/her)
Assistant Professor
Department/Office
Department of Civil and Environmental Engineering, CEA
School/College
College of Engineering and Architecture (CEA)
Biography
Dr. Delgado Vela is an assistant professor at Howard University. Her research interests applies tools in molecular biology to develop sustainable and cost-efficient urban water treatment. She completed her PhD in the Civil and Environmental Engineering Department at the University of Michigan in 2018. Her dissertation research combined laboratory and modeling methods to evaluate the impact of sulfur on nitrogen cycling during wastewater treatment. She received her master's degree from the University of Michigan in 2014 in Environmental Engineering and a bachelor's degree in Civil Engineering from The University of Texas at Austin in 2012. She has earned numerous awards, most notably the Ford Foundation Dissertation Award (2016) and an NSF Graduate Research Fellowship (2012).
Education
Environmental Engineering
Ph.D.
University of Michigan
2018

Environmental Engineering
M.S.E
University of Michigan
2014

Civil Engineering
B.S.
University of Texas at Austin
2012

Expertise
Environmental engineering, urban water systems, microbial biotechnology
Dr. Jeseth Delgado-Vela's research and teaching at Howard University focuses on developing an equitable, environmentally sustainable, and cost efficient urban water cycle. The goal of her research is to understand the microbial ecology within the urban water cycle and consequently inform water treatment approaches and technology development. She is particularly interested in unraveling microbial cross-feeding within water and resource recovery facilities, understanding nitrogen metabolisms in engineered processes, and developing process models for engineered systems that harness 'omic data. 
Academics
Environmental Engineering
CIEG 207: Introduction to environmental engineeringIntroduces concepts in water supply, water and wastewater treatment, air quality, solid and hazardous waste management, and social and ethical considerations. Provides a brief history and background of environmental engineering.
Unit Operations in Environmental Engineering
Analysis and basic design of treatment facilities for the remediation of water pollution. Advanced design of facilities for water and wastewater treatment including design ranges, regulations, economics and ethics of environmental design.
Research
Specialty
Microbial biotechnologies, urban water treatment
Funding
National Science Foundation
Environmental Protection Agency
DC Water
Group Information
- Rahil A. F. Fofana, PhD student, 2018-present- Mitham Al-Faliti , PhD student, 2020-present