See all Profiles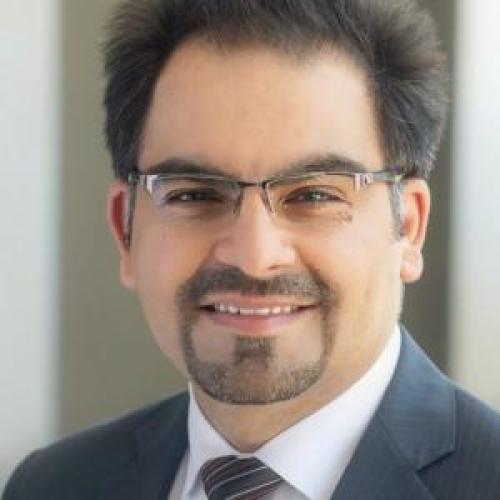 Faculty
Faculty
Hessam Yazdani
(He/His)
Associate Professor
Department/Office
Department of Civil and Environmental Engineering, CEA
School/College
College of Engineering and Architecture (CEA)
Biography
Dr. Yazdani is an associate professor of civil and environmental engineering and the director of the Sustainable Infrastructure, Geotechnics, and Materials (SIGMa) Research Lab at Howard University.
Dr. Yazdani specializes in geotechnical engineering, experimental and computational materials science (particularly polymer nanocomposites), reliability analysis, machine learning, and optimization. His multidisciplinary research centers on fostering sustainability and resilience in civil and marine infrastructure through addressing the geotechnical aspects of renewable energy systems, designing high-performance and multifunctional materials (e.g. for self-monitoring structures), incorporating risk assessment, sustainability, and optimization into the design of geotechnical and structural systems, and estimating the performance of engineering systems using machine learning techniques.
Dr. Yazdani has (co)authored over 50 publications in books, journals, conference proceedings, and reports and has received several competitive international and national awards, including the NSF CAREER Award, the DURIP Award from The Air Force Office of Scientific Research (AFOSR), the 2013 DFI Best Student Paper Award in Phoenix, AZ and an ASTM International Project Grant in 2013.
Dr. Yazdani currently serves as the advisor to the ASCE HU Student Chapter and is the recipient of "The 2022 Faculty of the Year," "The 2022 Advisor of the Year," "The 2019 Faculty of the Year," "The 2017 Best Mentor," and "The 2017 Best Teacher" awards of the Chapter.
At Howard, Dr. Yazdani has taught several undergraduate and graduate courses, including Introduction to Engineering, Soil Mechanics, Foundations, Engineering Economics, Undergraduate Research, Civil Engineering Software and Design, Senior Design, Advanced Geotechnical Engineering, SEMINAR - FE/EIT Preparation Review (Geotechnical), Research Methods, Interdisciplinary Advanced Research I and II, and Special Topics Geotech. I and II. At other institutions, Dr. Yazdani has taught Statics, Mechanics of Materials, Design of Steel Structures, and Design of Reinforced Concrete Structures.
Dr. Yazdani has a strong record of accomplishments in working and publishing with undergraduate, underrepresented, and female students from different disciplines and preparing civil engineering undergraduate and graduate students to proactively contribute to solving the 21st century's grand engineering challenges. His Undergraduate Research course has so far led to the publication/presentation of journal papers/posters from several undergraduate students.
Dr. Yazdani is a member of several organizations, including the American Society of Civil Engineers, Deep Foundations Institute (DFI - Honorary Member), and North American Geosynthetics Society. He is a frequent reviewer of multiple prestigious journals, including Resources, Conservation and Recycling, Carbon, ACS Sustainable Chemistry & Engineering, Computers and Geotechnics, Geotextiles and Geomembranes, and Applied Mathematical Modelling, among many others.
Education
Civil/Geotechnical Engineering
Ph.D.
The University of Oklahoma
2011-2015

Civil Engineering
M.Sc.
University of Kerman, Iran
2007

Civil Engineering
B.Sc.
University of Kerman, Iran
2005

Expertise
Geotechnical Engineering
Design, Simulation, and Characterization of Polymer Nanocomposites
machine learning and metaheuristic Optimization
Academics
Soil Mechanics
Foundations
Introduction to Engineering
Senior Design
Civil Engineering Software and Design
Engineering Economics
SEMINAR - FE/EIT Preparation Review (Geotechnical)
Undergraduate Research
Advanced Geotechnical Engineering
Interdisciplinary Advanced Research I and II
Research Methods
Special Topics Geotech. I and II
Research
Specialty
High-performance, multifunctional materials; Geotechnical engineering
Group Information
Hamid Ghasemi, Ph.D. Candidate (Google Scholar)
Accomplishments
The NSF CAREER Award, 2021
DURIP Award, The Air Force Office of Scientific Research (AFOSR), 2020
Faculty of the Year Award, Howard University ASCE Student Chapter, 2019
Invited Presenter, "Computational mathematics for model reduction and predictive modelling in molecular and complex systems" workshop, Bernoulli Center, (CIB), EPFL Lausanne, 2019
Best Paper Award, Technology Systems & Ships (TSS), Washington, DC, 2018
Best Mentor Award, Howard University ASCE Student Chapter, 2017
Best Teacher Award, Howard University ASCE Student Chapter, 2017
Best Paper Awardee, the 10th Annual Conference in Computer Science, Norman, OK, December 2014
Elected Member of the Civil Engineering Honor Society, Chi Epsilon (χε), 2014
Elected Member of the Honor Society of Phi Kappa Phi (ΦΚΦ), 2013
ASTM International Project Grants Awardee, 2013
Honorary Member, the Deep Foundations Institute, since 2013
Best Paper Award/Grand Prize Winner, the DFI Educational Trust 2013 Student Paper Competition
Third place for the GeoWall design paper in GeoChallenge 2012 Student Competition - GeoCongress 2012, Oakland, CA, March 2012